This is the fourth in a series of articles examining Gallup's nine items of spiritual commitment.
The nine items that Gallup has discovered best measure the spiritual commitment of individuals in congregations (see "How to Measure Spiritual Commitment" in Related Items) can be divided into those describing attitudes (four items) and those describing behaviors (five items). Last week, I explored the second attitudinal component: "Because of my faith, I have meaning and purpose in my life." (See Related Items.) This week, I'll explore the third attitudinal component, "My faith gives me an inner peace."
The graph below shows responses to this question on a scale of 1 to 5, with 1 being "strongly disagree" and 5 being "strongly agree."*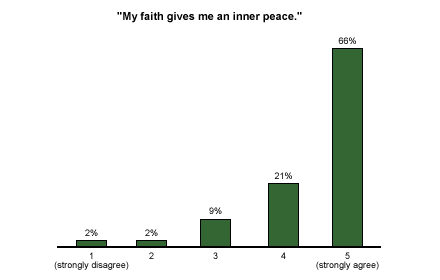 Of the nine spiritual commitment items, this item received the highest percentage of "strongly agree" responses. This indicates that most Americans expect something of intrinsic value from their faith. They want their faith to have a steadying effect upon their lives, providing inner assurance in the midst of life's challenges.
There are some significant differences in responses between men and women and among different age groups. Women tend to derive a greater sense of peace from their beliefs than do men, and that sense of peace increases with age.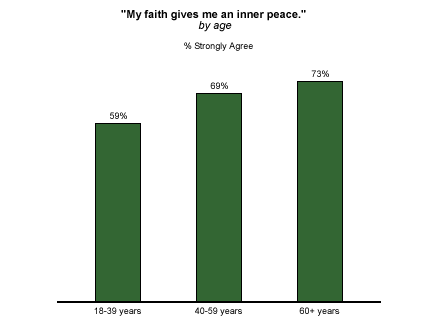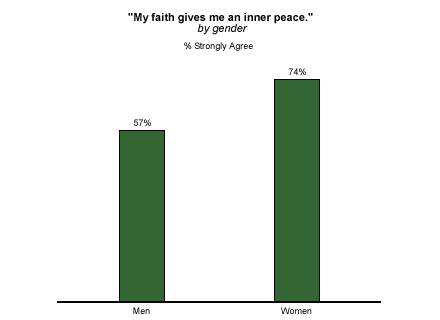 The differences raise several questions for leaders of faith communities. Do men have different spiritual needs than women? If so, what are they? How are you answering the different spiritual questions that men and women have?
How are the spiritual needs of older congregation members different from those of younger members? Are you adequately addressing the different questions of "ultimate meaning" that arise at different stages of life? Are you helping your members to practically apply the eternal truths found in your faith tradition? The effectiveness of your leadership will hinge to a large degree on how well you answer these questions for your members.
The best way to answer these questions is to find out what the members of your congregation think. Gather together groups of 10 to 15 members and ask them what their spiritual needs are, how the congregation meets those needs, and what else the congregation could do.
Dividing these groups by gender and/or age can help you to understand how the needs of these groups may differ from each other. Try to find out the different ways in which members find inner peace through their faith. These exercises will help you to better understand your congregation and the individual needs of your members and develop action plans for meeting these needs.
The SE25 items are protected by copyright of The Gallup Organization, Princeton, NJ, 2001. All rights reserved.
*Results are based on telephone interviews with 729 adult members of a church, synagogue, or other religious faith community, aged 18 and older, conducted October through November 2001. For results based on this sample, one can say with 95% confidence that the margin of sampling error is ±3.6%.