Seniors are the most critical
GALLUP NEWS SERVICE
PRINCETON, NJ -- Despite Americans' overall satisfaction with the state of the nation these days, a recent Gallup poll finds that the public is fairly critical of the state of moral values. Fewer than one in five adults give the country high ratings on this score, and most see values deteriorating rather than improving. Negative ratings of moral values are particularly high among older Americans, but women, highly religious people, and self-described "conservatives" are also critical.
According to Gallup's May 6-9 survey on values and beliefs, just 18% of Americans characterize moral values in the United States as "excellent" or "good," while 41% consider them "only fair" and 40% call them "poor."
Rating Current Moral Conditions

May 6-9, 2002
Looking ahead, just 24% of Americans believe moral values in the country as a whole are getting better, while 67% say they are getting worse.
More women than men are highly critical of the nation's moral climate, as 45% of women call conditions poor, compared with 33% of men. But equal percentages of men and women perceive the moral climate as deteriorating.
Young and Old Disagree About Nation's Moral Values
Few Americans of any age group have positive ratings of the nation's moral values; however, large differences are seen at the negative extreme, where a majority of older Americans describe moral conditions as poor, compared with only one-quarter of the very young who feel this way. Those in the 18- to 29-year-old age category are more likely to express a tempered negative view, saying moral conditions are "only fair."
Values Rating by Age Group
May 6-9, 2002
Despite these differences, there is general agreement among Americans of all ages that moral values in the country as a whole are getting worse rather than better. Six in 10 young adults feel this way (61%), compared with 67% of middle-aged Americans and 76% of those aged 65 and older.
Social Conservatism Driving Moral Discontent
People who attend church weekly are more likely to feel moral conditions are poor (52%) than are people who attend nearly weekly (35%) or those who attend less often than that (34%). Similarly, self-described conservatives are more critical of moral conditions than are liberals. Close to half of conservative adults call moral conditions poor, compared with 36% of moderates and just 29% of liberals.
Values Rating by Political Ideology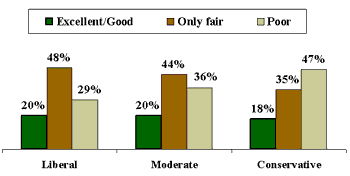 May 6-9, 2002
Consistent with these findings, the new poll provides some evidence that issues of sexual liberation are the most troubling to those who rate moral values poorly, including homosexuality and having sex and children outside of marriage.
The following table shows the percentages of people who think each of various behaviors and practices is morally acceptable, among those who say the nation's moral climate is excellent or good, and among those who say it is only fair or poor. This reveals a particularly wide gap between the two groups in their acceptance of homosexual behavior: 58% of those who rate the nation's moral climate positively say that this specific behavior is morally acceptable, compared with only 33% of those who are critical of the nation's morals.
Wide gaps are also evident in views about having a baby outside of marriage, abortion, sex between unmarried men and women, and stem-cell research. Divergent views exist concerning divorce as well, although a majority of both groups consider divorce morally acceptable.
Percentage Rating Various Behaviors as "Acceptable" According to Rating of Nation's Moral Values

% "Morally Acceptable"

Moral conditions are exc./good

Moral conditions are only fair/poor

Gap

%

%

%

Homosexual behavior

58

33

-25

Having baby outside of marriage

61

41

-20

Abortion

54

34

-20

Sex between unmarried man and woman

70

50

-20

Divorce

76

59

-17

Stem-cell research using human embryos

66

49

-17

Cloning animals

40

26

-14

Married men and women having an affair

16

7

-9

Doctor-assisted suicide

56

48

-8

Cloning humans

14

6

-8

Suicide

17

11

-6

Medical testing on animals

68

62

-6

The death penalty

69

64

-5

Buying and wearing animal fur

61

59

-2
Moral Conditions Modestly Linked to National Satisfaction
Americans' negative evaluation of moral conditions contrasts with their overall satisfaction with the general state of the country. According to the same May 6-9 survey, 56% of Americans are satisfied with the way things are going in the country and just 40% are dissatisfied. Nevertheless, there is a modest correlation between perceptions of the nation's moral climate and satisfaction with the country as a whole.
Two-thirds (67%) of those giving high marks to moral conditions say they are satisfied with the state of the country, compared with 54% of those giving low marks to moral conditions. Still, it should be noted that this connection is not as strong as economics, where Gallup typically sees a much greater correlation between respondents' ratings of the economy and their overall satisfaction with the country.
Survey Methods
These results are based on telephone interviews with a randomly selected national sample of 1,012 adults, 18 years and older, conducted May 6-9, 2002. For results based on this sample, one can say with 95 percent confidence that the maximum error attributable to sampling and other random effects is plus or minus 3 percentage points. In addition to sampling error, question wording and practical difficulties in conducting surveys can introduce error or bias into the findings of public opinion polls.
Thinking for a moment about moral values,
How would you rate the overall state of moral values in this country today -- as excellent, good, only fair, or poor?
| | | | | | |
| --- | --- | --- | --- | --- | --- |
| | Excellent | Good | Only fair | Poor | No opinion |
| | | | | | |
| 2002 May 6-9 | 1% | 17 | 41 | 40 | 1 |
Right now, do you think the state of moral values in the country as a whole is getting better or getting worse?
Getting better

Getting worse

SAME (vol.)

No opinion

2002 May 6-9

24%

67

7

2

(vol.) Volunteered response
MORAL VALUES OUTLOOK GROUPS (COMBINED RESPONSES)
| | | | | |
| --- | --- | --- | --- | --- |
| | Positive | Mixed | Negative | Undesignated |
| | | | | |
| 2002 May 6-9 | 12% | 20 | 65 | 3 |
Next, I'm going to read you a list of issues. Regardless of whether or not you think it should be legal, for each one, please tell me whether you personally believe that in general it is morally acceptable or morally wrong. How about … [RANDOM ORDER]?
A. Abortion

Morally acceptable


Morally
wrong

DEPENDS ON SITUATION (vol.)

NOT A
MORAL ISSUE
(vol.)


No
opinion

2002 May 6-9

38%

53

8

*

1

2001 May 10-14

42%

45

11

1

1
B. The death penalty

Morally acceptable


Morally
wrong

DEPENDS ON SITUATION (vol.)

NOT A
MORAL ISSUE
(vol.)


No
opinion

2002 May 6-9

65%

28

5

*

2

2001 May 10-14

63%

27

7

1

2
C. Doctor assisted suicide

Morally acceptable


Morally
wrong

DEPENDS ON SITUATION (vol.)

NOT A
MORAL ISSUE
(vol.)


No
opinion

2002 May 6-9

50%

44

4

*

2

2001 May 10-14

49%

40

8

*

3
Medical testing on animals

Morally acceptable


Morally
wrong

DEPENDS ON SITUATION (vol.)

NOT A
MORAL ISSUE
(vol.)


No
opinion

2002 May 6-9

63%

30

3

1

3

2001 May 10-14

65%

26

5

1

3
E. Buying and wearing clothing made of animal fur

Morally acceptable


Morally
wrong

DEPENDS ON SITUATION (vol.)

NOT A
MORAL ISSUE
(vol.)


No
opinion

2002 May 6-9

59%

35

2

2

2

2001 May 10-14

60%

32

2

3

3
F. Homosexual behavior

Morally acceptable


Morally
wrong

DEPENDS ON SITUATION (vol.)

NOT A
MORAL ISSUE
(vol.)


No
opinion

2002 May 6-9

38%

55

2

1

4

2001 May 10-14

40%

53

3

1

3
G. Sex between an unmarried man and woman

Morally acceptable


Morally
wrong

DEPENDS ON SITUATION (vol.)

NOT A
MORAL ISSUE
(vol.)


No
opinion

2002 May 6-9

53%

42

2

*

3

2001 May 10-14

53%

42

3

1

1
H. Married men and women having an affair

Morally acceptable


Morally
wrong

DEPENDS ON SITUATION (vol.)

NOT A
MORAL ISSUE
(vol.)


No
opinion

2002 May 6-9

9%

87

1

1

2

2001 May 10-14

7%

89

3

*

1
I. Divorce

Morally acceptable


Morally
wrong

DEPENDS ON SITUATION (vol.)

NOT A
MORAL ISSUE
(vol.)


No
opinion

2002 May 6-9

63%

28

8

*

1

2001 May 10-14

59%

28

12

*

1
J. Cloning animals

Morally acceptable


Morally
wrong

DEPENDS ON SITUATION (vol.)

NOT A
MORAL ISSUE
(vol.)


No
opinion

2002 May 6-9

29%

66

3

1

1

2001 May 10-14

31%

63

2

1

3
K. Cloning humans

Morally acceptable


Morally
wrong

DEPENDS ON SITUATION (vol.)

NOT A
MORAL ISSUE
(vol.)


No
opinion

2002 May 6-9

7%

90

2

*

1

2001 May 10-14

7%

88

1

1

3
L. Suicide

Morally acceptable


Morally
wrong

DEPENDS ON SITUATION (vol.)

NOT A
MORAL ISSUE
(vol.)


No
opinion

2002 May 6-9

12%

83

3

*

2

2001 May 10-14

13%

78

6

1

2
M. Medical research using stem cells obtained from human embryos

Morally acceptable


Morally
wrong

DEPENDS ON SITUATION (vol.)

NOT A
MORAL ISSUE
(vol.)


No
opinion

2002 May 6-9

52%

39

2

1

6
N. Having a baby outside of marriage

Morally acceptable


Morally
wrong

DEPENDS ON SITUATION (vol.)

NOT A
MORAL ISSUE
(vol.)


No
opinion

2002 May 6-9

45%

50

3

1

1

(vol.) Volunteered response

* Less than 0.5%
SUMMARY TABLE: MORAL ACCEPTABILITY OF ISSUES
2002 May 6-9
(sorted by "morally acceptable")

Morally acceptable

Morally
wrong

%

%

The death penalty

65

28

Medical testing on animals

63

30

Divorce

63

28

Buying and wearing clothing made of animal fur

59

35

Sex between an unmarried man and woman

53

42

Medical research using stem cells obtained from human embryos

52

39

Doctor assisted suicide

50

44

Having a baby outside of marriage

45

50

Abortion

38

53

Homosexual behavior

38

55

Cloning animals

29

66

Suicide

12

83

Married men and women having an affair

9

87

Cloning humans

7

90