Joe Camel is gone. The Marlboro Man keeps a low profile. Kids probably see more commercials about the dangers of smoking than they do the benefits of acne medication. Clearly, American teen-agers have heard the word about the risks of smoking. The national push to reduce smoking among adolescents, prompted largely by the massive legal settlement in 1998 between the tobacco industry and 48 U.S. states must have eliminated the problem, right?
The effectiveness of the many national and state campaigns against youth smoking remains to be seen. In 1990, 15% of 13- to 17-year-olds told the Gallup Youth Survey that they had smoked a cigarette in the last seven days; in 2000 that figure was 12% -- not a conclusive drop. In 1993, according to a nationwide study by the Centers for Disease Control and Prevention (CDC), 31% of sixth through 12th graders had smoked a cigarette in the past month. In 1999, a year after the tobacco settlement, this percentage had risen to 35%. (Gallup Youth Survey and CDC figures cannot be directly compared because of differences in the sampling frames and methodologies. However, neither organization detected a significant decline.)
In some individual states, however, teen-age smoking has dropped considerably. When sixth to 12th graders in Maine were asked in 1993 if they had smoked in the last 30 days, 33% said they had -- just a little over the national average. By 1997, that number had shot to 39%, but had dropped to 24% by 2001. That's an almost 10% decrease since 1993 and 15% decrease since 1997.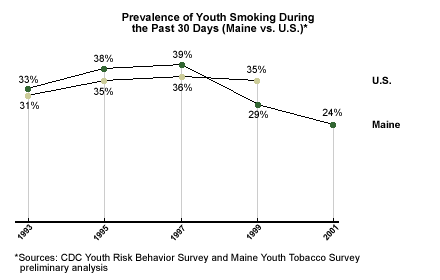 What has caused this dramatic decrease in smoking rates among Maine youth? The Partnership for a Tobacco-Free Maine (PTM) may be a large part of the answer. The mission of the PTM, a state tobacco control program, is to curb tobacco use among both adults and youth in Maine. PTM's program includes school and community-based intervention programs, anti-tobacco broadcasts and print media materials, and tobacco policy enactment and enforcement.
The Gallup Organization has been leading an evaluation of the PTM program's effectiveness for the past three years. According to Dr. Howard Fishbein, an epidemiologist and the project director for Gallup's PTM evaluation, the all-encompassing nature of PTM's approach is one of the most important contributors to the reduced youth smoking in Maine. "The state has funded a comprehensive approach to change people's attitudes and behaviors related to tobacco -- this includes youth-focused and adult-focused programs, an aggressive media campaign, widespread funding of 31 local programs throughout Maine, and the ability to create state and local-level policy changes regarding the use of, and exposure to, tobacco." Fishbein also cites adequate program funding and the effective use of Gallup's evaluation reports as reasons for PTM's success.
Key Points
Since the 1998 legal settlement, millions of dollars have been pouring into state tobacco control programs such as the one in Maine. Anti-smoking billboards have appeared along highways from coast to coast, and anti-smoking television commercials abound. It appears that these efforts are starting to pay off. The significant reduction in the number of kids who smoke indicates that Maine's program is having tremendous success in getting the word out about the harmful effects of smoking.