Gallup/UBS Index of Investor Optimism falls to an all-time low
GALLUP NEWS SERVICE
PRINCETON, NJ -- Investor optimism is at its lowest point in the past six years, according to the July Index of Investor Optimism -- a joint effort of UBS and The Gallup Organization. The Index is now at 46 -- below its previous low of 50 in September 2001 and at an all-time low since its inception in 1996.
Given the recent turmoil in the financial markets, it is not a great surprise that investor optimism has plummeted. Nor is it unexpected that the Personal Dimension of the Index is hitting a new low, given the vast losses many investors are experiencing. In July, the Personal Dimension is at 48 -- its all-time low -- falling below its June 2002 and September 2001 level of 61.
What is surprising, particularly in light of the positive comments on the economy by Fed Chairman Alan Greenspan to Congress last week, is that investors turned pessimistic on the economy in July. The Economic Dimension of the Index is now at –2 -- only the second time in the Index's history that investors have been net pessimistic on this dimension. The other occasion was September 2001, when the Economic Dimension reached –11.
Index of Investor Optimism – U.S.
October 1996 to July 2002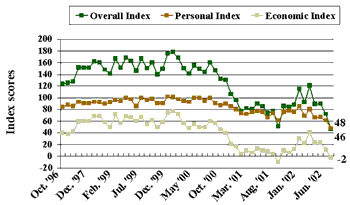 The fact that many investors are now pessimistic about the economy suggests that the much-ballyhooed "disconnect" between the market's performance and the economic outlook may be more apparent than real. Evidently, a lot of investors are not nearly as optimistic about the future of the economy as are most economic prognosticators. And if the perceptions of these investors -- as reflected by both the Index of Investor Optimism and the stock market -- are right, then the economy will be getting much weaker later this year.
Experienced Investors Are Less Optimistic
A lot of new investors -- those having five years or less of investing experience -- became stockowners over the past several years. Gaining their investment experience during the late 1990s, many of these investors began to believe that booming markets and double-digit rates of return were normal and to be expected. Some of them also seem to think that the stock market declines of recent years are an aberration, and that a return to the good times of the 1990s is just around the corner.
Perhaps this is why the overall Index for new investors is at 74 in July -- down from 131 in March, but still above its all-time low of 70 (November 2001) and nearly twice the level of other investors. The overall Index for investors with six to 20 years of experience is at 39 in July. It is down from 115 in March, and virtually the same as its September 2001 low of 38. The overall Index for investors with 21 or more years of experience is at 41 in July. It is down from 133 in March, and is below its previous all-time low of 64 in August 2001.
Index of Investor Optimism:
By Experience of Investor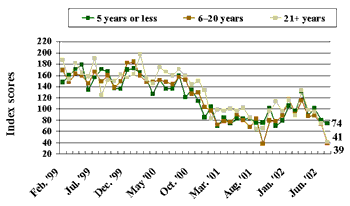 Older Investors Are Also Less Optimistic
The Index for investors 40 years of age or older is at 36 in July -- down from 121 in March. It is also below its previous low point of 48 in September 2001.
In sharp contrast, the Index for investors less than 40 years of age is at 81 in July -- down from 129 in March, but well above its September 2001 low of 62. It is also nearly twice as high as the Index for older investors.
Age and experience often lead to better investment results. And today's older and more experienced investors are much less optimistic than their younger and less experienced counterparts.
Index of Investor Optimism:
By Age of Investor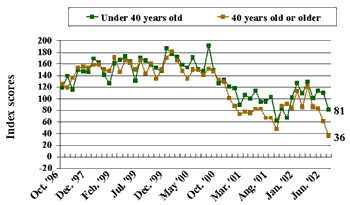 Survey Methods
Results for the total dataset are based on telephone interviews with 1,002 investors, aged 18+, conducted July 1-14, 2002. For results based on the total sample of investors, one can say with 95% confidence that the margin of sampling error is ± 3 percentage points.