Last week, I began a discussion of each of the 12 specific items that Gallup has discovered best measure the level of engagement members feel toward their respective congregations. This week, I will discuss the second of these items, "In my congregation, my spiritual needs are met."
This question identifies the characteristic that sets faith communities apart from other charitable organizations: the element of faith. People are not drawn to congregations merely because they make a positive impact on the community and the world. To be sure, effective faith communities do reach out in concern and service, but that is not their primary reason for existence. Faith communities exist for the purpose of spiritually transforming individual lives. As a result of this spiritual transformation, individuals can positively impact their world. This is true no matter what the religious tradition: Christianity, Buddhism, Islam, Judaism, Hinduism and the world's other great religions have at their core the transformation of the individual.
The question, "In my congregation, my spiritual needs are met," is an important one. Indeed, it is the foundation of any congregation's health. So it is a great cause for concern that nationally, only 52% of members strongly agree that their spiritual needs are met in their congregations*. If members' spiritual needs are not met within their congregations, they will look elsewhere. Humans are spiritual beings, and that spirituality needs to find expression.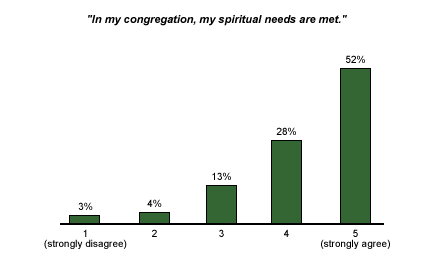 Not surprisingly, individuals who regularly attend religious services within their faith communities are more inclined to say their spiritual needs are met than those who do not attend regularly. Those whose spiritual needs are met within their congregations have more positive feelings about their membership, and in turn tend to show up at congregational events more often.
However, religious leaders should resist the temptation to assume that members' spiritual needs are being met solely through the primary worship service. While that may be the primary source of fulfillment for many members, it might not the case for all members who have their spiritual needs met; other sources may include small groups, Bible classes, support groups, service projects and mission trips, to name but a few. And even for those who have their needs met by gathering with other members for weekly worship, the reasons may vary significantly. For some, it may be the music, the preaching, or the prayers. For others, it may be the opportunity to see good friends.
How do you find out what it is about your faith community that meets your members' spiritual needs? Ask. Hold a series of listening sessions and ask the participants what it is about your congregation that best addresses their needs. The results may surprise you. And then, armed with information, you can devise strategies to improve and expand upon what your congregation already does well -- and thereby reach more people.
The SE25 items are protected by copyright of The Gallup Organization, Princeton, N.J. All rights reserved.
*Results are based on telephone interviews with 729 adult members of a church, synagogue, or other religious faith community, aged 18 and older, conducted October through November 2001. For results based on this sample, one can say with 95% confidence that the margin of sampling error is ±3.6%.