According to the July Gallup/UBS Index of Investor Optimism*, investor optimism is plummeting and is now at its lowest point ever. Worse yet, optimism among "substantial" investors -- those with investments of $100,000 or more -- is also at a new low. Not a huge surprise given what has been happening in the marketplace, but of great concern because of what it implies for the economy.
With the approach of the SEC's Aug. 14 deadline for all companies with more than $1.2 billion in annual revenue to certify the accuracy of their financial statements, we will be seeing many more corporate restatements. The current crisis of confidence will immediately intensify. But this cleansing process should reassure investors that they can once again believe the financial statements of corporate America.
Unfortunately, it will take a while to cleanse corporate America's books -- in the meantime, investor and consumer confidence will continue to suffer. I believe today's corporate accounting debacle represents a major shock to the economy -- one that is having as great an impact on investor attitudes as the horrible events of last September. As a result, a double-dip recession later this year is now more likely than not.
Why Are Investors So Gloomy?
The general consensus on Wall Street and among the nation's policy-makers seems to be that the majority of blame lies with greedy and ineffectual CEOs. As a result, many observers have concluded that the solution to the current crisis of confidence on Wall Street is to aggressively prosecute corporate wrongdoers and institute much more severe punishments for those who misbehave in the future.
New poll data collected for the Index of Investor Optimism monthly survey, however, suggest that the reason for today's crisis of confidence among investors is somewhat more complicated. Eight out of 10 investors said that the issue of questionable accounting practices in business is hurting the current investment climate a lot. But it is hard for policy-makers to discuss accounting reforms because of the complexity of the issues involved. As a result, accounting industry lobbyists have a good opportunity to heavily influence any reforms before they become law. This increases the odds that real -- meaningful -- accounting reforms will not be achieved.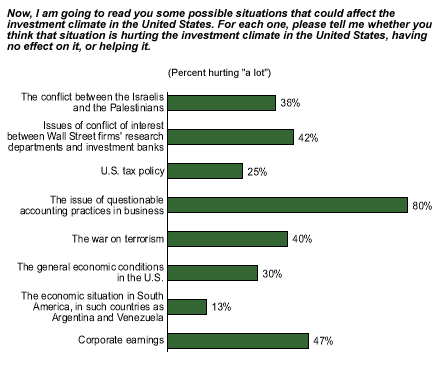 What Would Improve the Investment Climate?
Investors' pessimistic views of the current state of the economy imply that many of them are not listening to the majority of the economic prognosticators, who continue to say that there is a light at the end of the tunnel. But investors do acknowledge that a wide range of things could happen that would improve the current investment climate. More than three out of four investors say that an overall improvement in economic conditions would have a fairly or extremely large positive impact on the current investment climate. About six out of 10 investors say several other things would have a fairly/extremely positive impact on the investment climate, including:
New regulations by the SEC
A significant improvement in corporate earnings
Strict prison sentences for corporate managers convicted of fraud
Federal guidelines for ethical standards among corporate management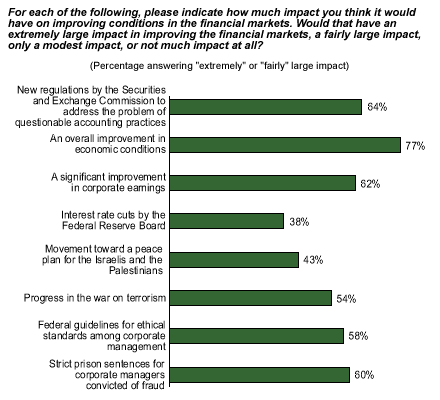 *Results for the total dataset are based on telephone interviews with 1,002 investors, aged 18 and older, conducted July 1-14, 2002. For results based on the total same of investors, one can say with 95% confidence that the margin of sampling error is ± 3%.