Measuring public opinion of prominent people and elected officials can take on many forms, from the president's job approval rating, to specific questions relating to current events or policies. One hallmark measurement for any prominent figure is Gallup's favorable/unfavorable opinion rating. A July 26-28 CNN/USA Today/Gallup poll* re-asked this long-running trend about high-profile members of the Bush administration, and found some interesting results.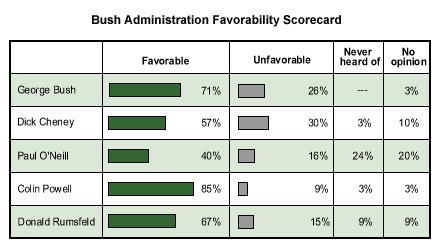 For both President George W. Bush and Vice President Dick Cheney, the July poll shows a decrease in the public's favorable rating. Currently, 71% of Americans have a favorable opinion of Bush, a nine-percentage point decrease from May 2002, and the lowest score he's received since Sept. 11. It should be noted that this rating is still significantly higher than any favorable rating Bush received in either 2000 or 2001 (prior to Sept. 11).
A similar dip in Cheney's favorable rating occurred in July. His current favorability rating of 57% is 10 percentage points lower than it was in January 2002. Perhaps more significant is that three in 10 Americans (30%) now say they have an unfavorable opinion of Cheney. This unfavorable rating is higher than at any other time since Cheney became vice president.
Military Men Score Well
The American public thinks very favorably of Defense Secretary Donald Rumsfeld, the man most closely associated with leading America's war on terrorism. A majority of U.S. respondents (67%) say they have a favorable opinion of Rumsfeld, while just 15% have an unfavorable opinion of him.
Former military leader and current Secretary of State Colin Powell might very well be the most popular political figure in America today. An April-May poll from this year shows an overwhelming majority (85%) have a favorable opinion of Powell, and just 9% have an unfavorable one.
With regard to Rumsfeld and Powell's high ratings, military personnel usually enjoy elevated ratings when the country is at war because of the rally effect associated with wartimes. When Powell was first asked about in 1993 (when many Americans were most likely to associate him with the U.S. victory in the Persian Gulf War), he received a 71% favorable rating. During the peacetime of 1995, his favorable rating was a more modest 64%. This year, Americans may be especially likely to associate him with America's war on terrorism.
Paul Who?
The current economic downturn has brought other Bush administration officials into the public eye, including Treasury Secretary Paul O'Neill. The public generally thinks favorably of the Bush appointee and former Alcoa CEO, but he is also relatively unknown. More than twice as many people have a favorable rating of O'Neill than unfavorable (40% to 16%), but nearly a quarter of Americans (24%) have never heard of him.
Typically, the first asking of the favorable/unfavorable question for a public figure yields a high percentage of "never heard of" responses. So, a trend is infinitely more valuable than a single asking. As a figure becomes better known to the public, people are more likely to assign a favorable or unfavorable opinion to him or her.
*Results based on a telephone interview with 1,004 American adults, aged 18 and older, conducted July 26-28, 2002. For results based on the total sample of national adults, one can say with 95% confidence that the maximum margin of sampling error is ±3%.