But divided on trend in their own area
GALLUP NEWS SERVICE
PRINCETON, NJ -- According to a recent Gallup Poll, conducted Oct. 14-17, a majority of Americans believe that crime has increased on a national scale over the past year. However, they are divided as to whether crime has increased in their area. Still, both measures represent a more negative perception than what was found last year. The poll was conducted as the news media were covering a series of sniper shootings in the Washington, D.C. area, which could affect the public's perceptions about the crime rate. Still, Americans are no more worried about being a victim than they were last year, and they report taking precautions at about the same rate as they did last year.
The poll shows that a clear majority of Americans, 62%, believe that there is more crime in the United States this year than there was a year ago, while just 21% say there is less crime, and 11% say there is about the same amount.
Is There More or Less Crime in the United States Today Than Last Year?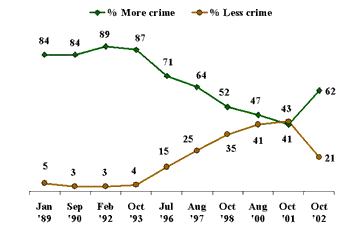 These results represent a major difference from last year, when -- even in the immediate aftermath of the Sept. 11 attacks -- the public was about evenly divided in their perceptions of the national crime trend, with 41% saying there was more crime than the previous year, and 43% saying less.
When asked about crime in their own areas, however, Americans are about evenly divided today as to whether there has been an increase over the past year (37%) or a decline (34%).
Is There More or Less Crime in Your Area Today Than Last Year?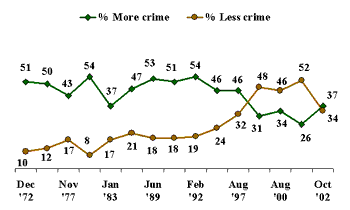 The results of this question also suggest a major change from last year, when 52% of Americans thought there was less crime in their area than the year before, and just 26% said more.
Perhaps reflective of their more negative perceptions this year, Americans are also slightly more likely to say that there is some area near where they live where they would be afraid to walk alone at night. This year, 35% said there was such an area, compared with 30% who said that last year.
Is There an Area Near Where You Live Where You are Afraid to Walk Alone at Night?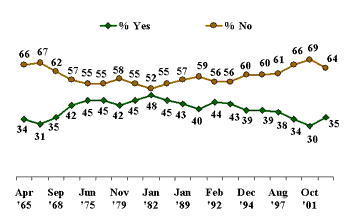 Still, the current number is about the same as that found in 2000 (34%), and lower than the percentages measured from 1972 through 1997.
Confidence in the ability of the police to protect citizens from violent crime has also declined slightly. This year, 58% say they have a "great deal" (19%) or "quite a lot" (39%) of confidence in the police, down from 66% who said that last year, including 25% who said a "great deal."
Confidence in Police to Protect You
From Violent Crime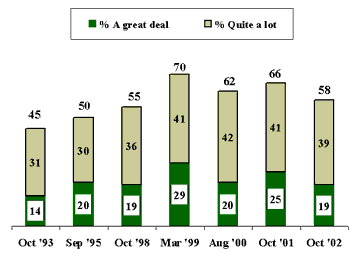 The greatest level of confidence expressed by Americans in the past decade came in 1999, when 70% of Americans said they had a great deal or quite a lot of confidence in the police. The lowest level was in 1993, when just 45% expressed a high level of confidence, perhaps reflecting law enforcement's negative publicity stemming from the 1992 Rodney King beating incident in Los Angeles.
Little Effect of Sniper Shootings on People's Feelings of Security
The poll was conducted during extensive media coverage of a series of sniper shootings in the Washington, D.C. area. Such coverage could have influenced the public's responses about the amount of crime that the country is experiencing. But Americans do not seem significantly more worried about crime today than they were a year ago.
The poll shows that 45% of respondents worry either "frequently" or "occasionally" about their home being burglarized in their absence, and 44% worry that someone will steal or break in to their car. In addition, 40% worry about being the victim of a terrorist attack. Just over a quarter of Americans worry about their home being burglarized when they are at home, and about being mugged. Just over one in six worry about being sexually assaulted or getting murdered. Finally, only 6% fear being assaulted or killed by a coworker.
The results this year are very close to what was measured in a similar 2001 Gallup Poll.
How Often Do You Worry About...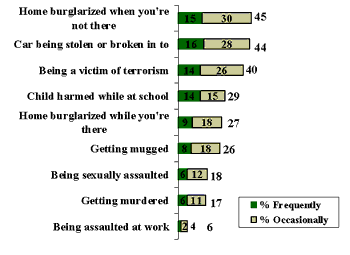 Oct 14-17, 2002
There are also few differences between this year and last in the actions that people have taken to protect themselves from crime. Americans are most likely to avoid certain places they might otherwise want to go to (43%), followed by keeping a dog (30%), having a burglar alarm installed in their house (24%), buying a gun for protection of their home (21%), carrying mace or pepper spray (16%), carrying a knife (11%), and carrying a gun (10%).
Do You/Have You Done Any of the Following Because of Your Concern About Crime?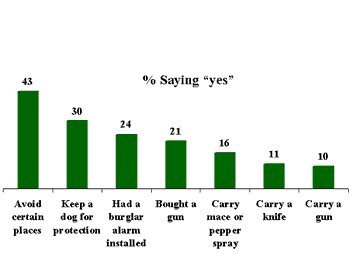 Oct 14-17, 2002
Survey Methods
The most recent results from each of the two surveys are based on telephone interviews with about 1,002 national adults, aged 18+, conducted Oct. 14-17, 2002. For results based on the total sample of likely voters, one can say with 95% confidence that the margin of sampling error is +/- 3 percentage points. In addition to sampling error, question wording and practical difficulties in conducting surveys can introduce error or bias into the findings of public opinion polls.