It has been well documented that Americans' levels of concern about crime vary significantly by their racial category. Americans who describe themselves as nonwhite are more likely than whites to fear being the victims of crime and to say they feel unsafe in the areas they live. As one might expect, confidence in the ability of the police to protect citizens from violent crime also varies significantly by race. Though other demographic factors are also predictive of opinion toward crime in America, race seems to override all other factors when it comes to opinions of the police.
The Crime Divide
A recent Gallup Poll found that nonwhite Americans are significantly more likely than white Americans to say they "frequently" worry about nearly every type of crime. This includes car theft (26% to 13%), home burglary while they are away from home (21% to 14%), having a child assaulted while at school (25% to 11%), sexual assault (14% to 4%) and murder (10% to 5%). Further, Gallup asked Americans if there was "any area near where you live -- that is, within a mile -- where you would be afraid to walk alone at night?" More than four in 10 nonwhite Americans (44%) said yes, compared to a third of whites (33%).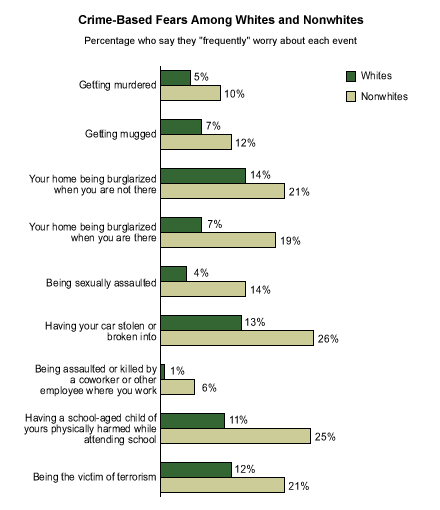 But while the relationship between worry about crime and race may seem quite direct, other, related demographic factors tend to better predict and explain these attitudes -- specifically, income and community type. With the exception of car theft, the percentage saying they frequently worry about crimes ranging from home burglary to murder is highest among Americans who make less than $20,000 a year. Among those who make $75,000 or more a year, the percentage saying they worry frequently about specific crimes only breaks double digits in regard to fear of being a victim of terrorism.
Not surprisingly, the likelihood with which Americans say they fear walking alone in area within a mile of where they live is more strongly tied to community type than race. Nearly half of those who say they live in urban areas (48%) say they would be afraid to walk alone in an area within a mile of where they live. This is true of roughly a third of those who live in suburban areas (34%) and a quarter of those living in rural areas (24%).
Police Protection?
However, non-racial factors tend to drop away when Americans are asked about their confidence in the police to protect them from violent crime. Forty-two percent of nonwhites say they have a "great deal" or "quite a lot" of confidence in the police. Among whites, 62% give those responses. Confidence in the police does not vary significantly among urban, suburban or rural dwellers. When income is considered, those making less than $20,000 are actually more likely than those making $75,000 or more to say they have a "great deal" of confidence. Race, not income or community type, appears to be the sole primary driver of this difference of opinion.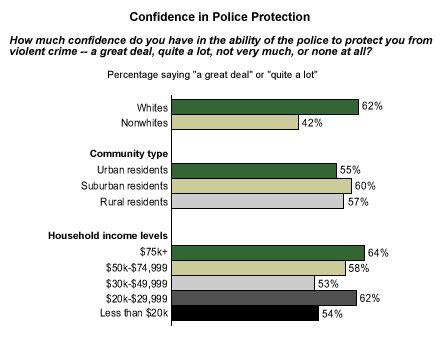 These findings underscore the complex relationship between race and crime in America. It's difficult in many cases to distinguish between the sociological factors at work in issues that are considered racially charged -- even perceptions of crime. But, where confidence in the police is concerned, race clearly stands out as an important variable. This paradox may speak to a serious ongoing problem: the ongoing lack of trust racial minorities across communities hold toward police in general.
*Results are based on telephone interviews with 1,002 national adults, aged 18 and older, conducted Oct. 14-17, 2002. For results based on the total sample of likely voters, one can say with 95% confidence that the margin of sampling error is ±3%. In addition to sampling error, question wording and practical difficulties in conducting surveys can introduce error or bias into the findings of public opinion polls.