Not very many people of any age exercise vigorously for 4 hours a day, 6 days a week. But Kate MacKenzie, U.S. Rowing Athlete of the Year, can't understand why. "If you haven't established a rigorous level of activity early in life," observes MacKenzie, 26, "you'll have little chance to instill one as you grow older."
Recent Gallup Poll findings* echo those observations. While young adults -- those aged 18 to 24 -- say they engage in vigorous exercise (described as "vigorous sports or physical activities for at least 20 minutes that cause large increases in breathing or heart rate") 2.1 days each week on average, that number declines to 1.4 days among those between the ages of 55 and 64. And those aged 65 or older say they vigorously exercise less than 1 day a week on average.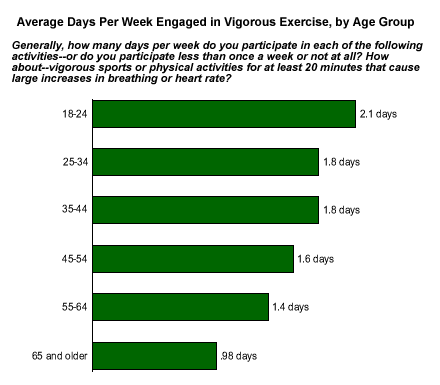 Adults of all ages do better when it comes to moderate exercise (described as "moderate sports or recreational activities that cause slight increases in breathing or heart rate, such as walking, gardening, or other similar activities"). While the averages for the youngest group are still the highest of any category -- 3.8 days per week -- those age 65 and older who at long last may have some extra time on their hands, are not far behind at 3.4 days of moderate exercise every week.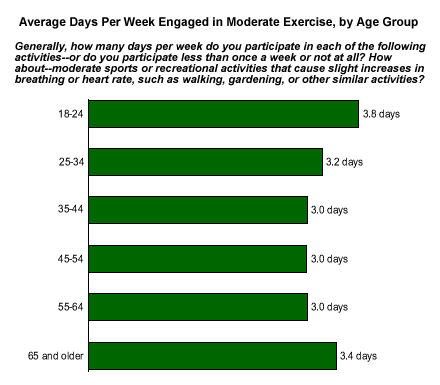 A 2001 Gallup Youth Survey** found that the pattern of declining physical activity may actually begin in the teen years. According the survey, 81% of teens between the ages of 13 and 17 said they take part in some form of sports or exercise on a regular basis. But when broken into younger and older age groups, teens aged 13 to 15 participate at a higher rate (84%) than 16- to17-year-olds (76%). (See "Fit or Fat? Schools May Play Hefty Role" in Related Items.)
As teens get older, studying, driving, and socializing may compete for time previously spent in the more active pursuits of childhood. By the time young adults leave high school and enter college or the workplace, they may have even less time. Often, exercise is the first thing to go. "I can see that some young people at my office are already becoming 'workaholics' and not taking care of themselves," says MacKenzie. "If, after 3 days, I haven't exercised, I find that I don't have as much energy for anything, including work."
Just 19% of young adults can be considered sedentary, meaning they report engaging in little to no vigorous or even moderate physical activity. That's a positive finding, but the fact that the figure is significantly higher among older age groups may become increasingly problematic as the average age of the U.S. population rises over the next few decades.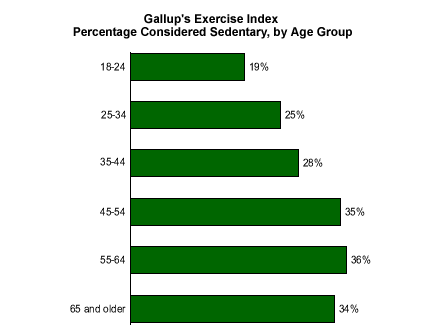 Key Points
Although young adults score highest on Gallup's overall exercise index -- 38% say they participate in a high amount of physical activity -- that number needs to go up even further. If patterns of healthy activity are established early in life, they have a real chance to stay the course. To combat the current "obesity epidemic" in the United States, more Americans will have to find some degree of the appreciation of exercise expressed by MacKenzie, who is currently training for the 2004 Summer Olympics in Athens: "I can't imagine there will ever be a time when I won't be rowing, or at least involved in serious physical activity. Exercise will always be a part of who I am."
*Results are based on telephone interviews with 1,001 national adults, aged 18 and older, conducted Nov. 11-14, 2002. For results based on the total sample of national adults, one can say with 95% confidence that the maximum margin of sampling error is ±3%.
**Results are based on telephone interviews with 501 American teens, aged 13 to 17, conducted from March through May 2001. For results based on this sample, one can say with 95% confidence that the maximum error attributable to sample random effects is ±5%.