Eight in 10 European investors say that the most important threat to the global equity markets is either a war against Iraq (55%) or major terrorist attacks (25%), according to the January 2003 Index of Investor Optimism -- EU5, a joint effort of UBS and The Gallup Organization*. Another 11% of investors point to a prolonged economic downturn, while one in 20 say the greatest threat is from a significant depreciation of the dollar. Given these fears regarding the continued weakness of the world economy and the highly volatile geopolitical situation, it is not surprising that only about one in three of Europe's investors (35%) say that now is a good time to invest in the financial markets.
EU5 Investors Are Pessimistic Overall . . .
European investor sentiment remains pessimistic in January. The Index of Investor Optimism -- EU5 is now at -37, essentially matching its December level of -38 -- the EU5 Index's most negative measurement since its baseline was established in October 2001. In January 2002, the EU5 Index was at 40 -- 77 points higher than its most recent reading. EU5 investor sentiment was essentially neutral in July and August of 2002, when the Index fell to 2 and -1, respectively. Since that time, EU5 investors have turned increasingly more pessimistic.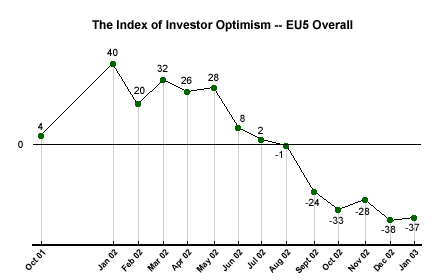 . . . Barely Optimistic Along the Personal Dimension . . .
While the overall EU5 Index remained virtually unchanged in January, its two dimensions did not. The Personal Dimension of the Index fell to a new low, declining from 11 in November and December to 5 this month. The Personal Dimension hit its high a year ago in January 2002, when it reached 44. By August, it had declined to 18 before falling to 9 in September and 6 in October.
Econometric analysis suggests that the Personal Dimension of the Index is most predictive of future economic activity, therefore the drop in the Personal Dimension is the most troubling aspect of these results. Although EU5 investor perceptions along the Personal Dimension remain in positive territory, the fact that they are at their lowest point since October 2001 does not bode well for the European economic outlook in the months immediately ahead.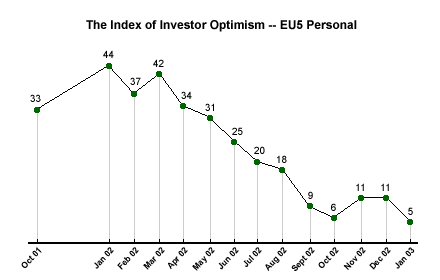 . . . And Pessimistic Along the Economic Dimension
The Economic Dimension of the EU5 Index remains the reason that overall EU5 investor sentiment has turned pessimistic. The Economic Dimension rose seven points in January to -42 -- up from -49 in December, but still below the October and November levels of -39. European investor sentiment toward the economy is now at its second-most negative level since the Economic Dimension's baseline was established at -29.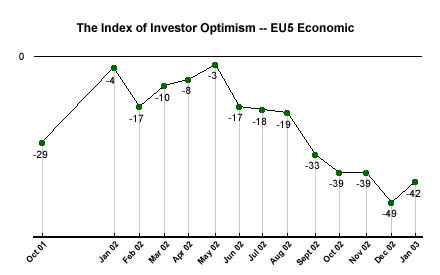 Bottom Line
As the majority of European investors (55%) anticipated, the European Central Bank left interest rates unchanged when they met last week. Still, they hinted that the 25% of EU5 investors who predicted the ECB would lower interest rates may YET prove correct by stating: " . . . the Governing Council will monitor closely the downside risks to economic growth in the euro area."
Euro monetary authorities, like their U.S. counterparts, may be finding it very difficult to figure out which factors are having the greatest impact on investor and public confidence right now. Worries over war and terrorism are simply overshadowing all other public concerns. As a result, most policy-makers seem to have decided to wait and see what happens in Iraq.
Given the current degree of pessimism among Europe's investors, this wait-and-see attitude may be a big mistake. At this point, the first half of 2003 looks pretty bleak for the worldwide economy. Instead of hoping for a post-war rally effect, the ECB and the Fed should consider taking steps to bolster worldwide investor confidence sooner rather than later.
*Results for the Index of Investor Optimism -- EU5 are based on interviews with approximately 200 investors each in France, Germany, Great Britain, Italy, and Spain conducted January 1 to 17, 2003. For results based on a total sample of approximately 1,000 investors, one can say with 95% confidence that the margin of sampling error is ±3%. In addition to sampling error, question wording and practical difficulties in conducting surveys can introduce error or bias into the findings of public opinion polls.