Americans' access to high-quality healthcare is among the most hotly debated topics between representatives of the two major political parties. But outside the Senate chamber and Sunday morning talk show circuit, is the issue really seen differently by Republicans and Democrats? Or can differences of opinion in the general public be accounted for by different demographic make-ups of the two parties -- for example, does the fact that more lower-income Americans identify themselves as Democrats explain differing views between the parties on healthcare accessibility?
A Bigger Problem
One reason the issue has become more divisive in recent years is Americans' satisfaction with healthcare access has dropped. In 1997, both Democrats and Republicans seemed much more satisfied than they are now with the availability and affordability of healthcare services: 43% of Republicans said they were "very" or "somewhat" satisfied with healthcare availability/affordability, along with 40% of Democrats.
But in a January 2003 Gallup Poll*, Americans were asked about their satisfaction with both the availability of affordable healthcare, and with the quality of medical care in the nation. Overall, 25% said they are very or somewhat satisfied with the availability of healthcare. Meanwhile, less than half (48%) said they are very or somewhat satisfied with its quality.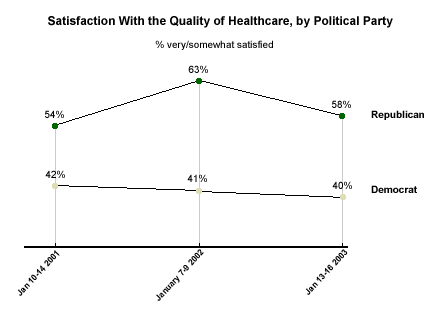 Examining the Differences
One might expect that these opinions would be influenced by a person's own ability to afford quality healthcare, and therefore vary by income level. However, the differences in satisfaction with quality are much greater by party (58% of Republicans are satisfied, compared with 40% of Democrats) than by income. Republicans in wealthier households and less wealthy households show roughly similar levels of satisfaction, and these levels are much higher (nearly twice as high) as those of Democrats at similar income levels.
The results for satisfaction with availability of care show significant difference along party lines as well -- 34% of Republicans said they are satisfied with the availability of affordable healthcare, compared with just 16% of Democrats. Democrats at different income levels rate the availability of healthcare similarly.
Bottom Line
The idea that certain facets of the healthcare debate produce such highly politicized fissions in public opinion carries huge implications for next year's election cycle. Increased dissatisfaction among Democrats could make healthcare affordability a significant rallying point during the 2004 Democratic presidential primaries, and since satisfaction with availability is low among all Americans, it may well become a significant issue in the general election. If the Bush administration fails to improve its standing on this issue over the next 12 months, it may be vulnerable to a Democrat touting healthcare reform as a signature issue.
*Results are based on telephone interviews with 1,000 national adults, aged 18 and older, conducted Jan. 13-16, 2003. For results based on the total sample of national adults, one can say with 95% confidence that the margin of sampling error is ±3%.