About four in five Americans (81%) believe that now is a bad time to find a quality job, according to a March 3-5 Gallup Poll*. As a result, most Americans -- unlike many economic forecasters and their compatriots on Wall Street -- probably weren't greatly surprised late last week when the Labor Department announced the biggest decline in jobs (U.S. companies eliminated more than 300,000 jobs in February) since the month following the Sept. 11 terrorist attacks.
Nor would the public be surprised to learn that the economy is weakening during the first quarter of 2003. More Americans now rate current economic conditions as "poor" (32%) than rate them as "good" or "excellent" (22%). Further, 67% of Americans tell Gallup that economic conditions in this country are "getting worse" while only 23% say economic conditions are "getting better."
The key question regarding the immediate economic future in the United States is this: given all this economic pessimism, not to mention today's geopolitical uncertainties, will consumers continue to spend in the months ahead? While the nation's retailers won't like the answer, they also will not be surprised to learn what consumers are telling Gallup: over the next six months, they intend to spend and borrow less while saving more.
Consumers Plan to Spend Less
In March, more consumers say they plan to decrease their level of spending over the next six months (28%) than say they plan to increase it (21%): a negative differential of seven percentage points. This negative differential continues to suggest reduced consumer spending, although it is a little better than the differential of -11 points in February.
The current spending intentions differential is the same as that found in October 2001, when 28% of consumers said they planned to spend less and 21% said they planned to spend more. The differential shrank during the first half of 2002, and actually disappeared in May when 24% of consumers said they planned to spend more and an equal percentage said they planned to spend less. During the second half of last year, however, the improved outlook for consumer spending -- like that for consumer and investor confidence -- seemed to dissipate.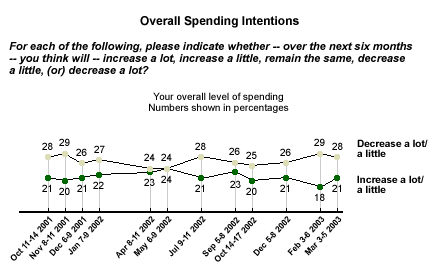 Consumers Also Plan to Borrow Less
More consumers also plan to borrow less than plan to borrow more. Forty-two percent of consumers currently say they plan to borrow less over the next six months, while only 15% say they plan to borrow more. This negative differential of -27 continues to suggest consumer borrowing will decline in the months ahead.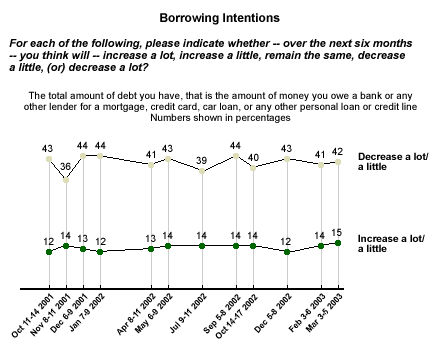 But They Plan to Save More
In sharp contrast to their spending and borrowing intentions, more consumers tell Gallup that they plan to save more than say they plan to save less over the next six months. One in three consumers (34%) say they plan to save more over the next six months, while only 17% say they plan to save less. This positive differential of 17 percentage points equals that of October 2001 (33% increase minus 16% decrease).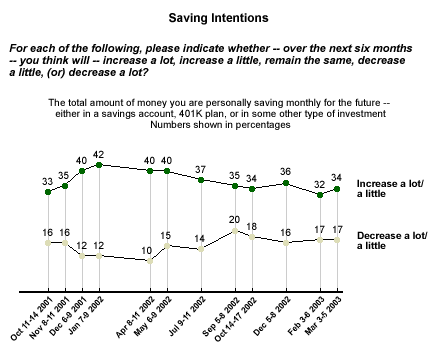 A Double-Dip Recession?
The disappearance of so many jobs last month has stimulated renewed interest in the oft-mentioned -- and routinely dismissed -- idea of a double-dip recession. To those of us who focus on public opinion, the economic data are simply beginning to reflect one simple fact: if confidence among consumers, investors, and employees continues to fall, consumers cannot continue to spend as they have over the past couple of years. Short periods of divergence are possible, but such divergence cannot be maintained over time.
During February and March, consumer spending, borrowing, and saving intentions have been very close to where they were in October 2001. Add to this the steadily declining trends in consumer and employee confidence and investor optimism, and consumers' ability -- and more importantly their willingness -- to keep the economy going with their spending seems increasingly unlikely. As a result, a double-dip recession seems much more likely this year than at any time since the current recession began in March 2001.
*Results are based on telephone interviews with 1,003 national adults, aged 18 and older, conducted March 3-5, 2003. For results based on the total sample of national adults, one can say with 95% confidence that the maximum margin of sampling error is ±3%.