Gallup's most recent survey of America's youth* offers some interesting insights into what teens think about the threat of war in America today, as well as what their own roles might be in a future war.
Fear of Nuclear War
Unlike many Americans who grew up in the shadow of impending nuclear war, today's generation of teens seem to have less reason to worry about that particular danger. But with terrorist threats and possible war with Iraq looming, teens' belief in the threat of a nuclear war is currently high. According to the 2003 survey, 66% of American teens feel threatened by nuclear war -- 19% say they think it is "very" likely, 47% "somewhat" likely.
Feelings about the inevitability of nuclear war holds constant across most demographic groups, but one categorization turns up an interesting difference. About one-third (33%) of those students whose self-described academic status is "above average" feel that nuclear war is very likely in their lifetimes, compared to about half (51%) of those who describe themselves as "average or below average." Positivity may be a key underlying factor for both findings -- that is, a more positive outlook may help kids maintain better grades as well as a more optimistic worldview.
War or Peace?
There's no question that if the United States were to become involved in a protracted war effort, thousands of today's teens would ultimately be involved in that war. When teens were asked if they think they will ever fight in a war during their lifetimes, one in four (25%) said they expect to do so. Only 11% of teen girls expect to fight in a war during their lifetimes, compared to 37% of boys.
Military Service
With teens' expectations of war reaching the highest level in a decade, one might expect an effect on their interest in serving in the military. Only about one in nine (11%) teens indicate that they have a "great deal" of interest in serving their country in a military capacity. Just 6% of girls say they have a great deal of interest in serving in the military, versus 15% of boys.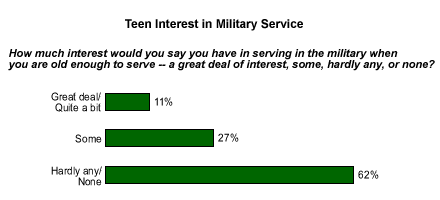 Bottom Line
With interest in serving in the military at such a low level, it's no wonder that all four branches of the armed services have stepped up their recruiting efforts. This endeavor is aided by a provision in the "No Child Left Behind Act" requiring school districts to make high school students' phone numbers, mailing addresses, and other personal data available to U.S. military recruiters (although parents can have the information withheld if they choose). In addition to visiting high schools and writing to students, the Marines have their own special recruiting tool -- a four-day weekend pass to Parris Island, S.C., for teachers. Four times a year, 80 teachers and educators are invited to take part in four days of "boot camp" exercises to encourage them to endorse the military as a viable educational alternative to colleges and universities.
*The Gallup Youth Survey is conducted via an Internet methodology provided by Knowledge Networks, using an online research panel that is designed to be representative of the entire U.S. population. The current questionnaire was completed by 1,200 respondents aged 13 to 17 between Jan. 23-Feb. 10, 2003. For results based on the total sample, one can say with 95% confidence that the maximum margin of sampling error is ±3%. For a complete description of the sampling and weighting procedures used to conduct the survey, click here.