In 1999, which health problem killed more young people (aged 15 to 24) than cancer, heart disease, AIDS, birth defects, stroke, and chronic lung disease combined? According to the National Center for Injury Prevention and Control, the answer is suicide. Also, according to the National Center for Health Statistics, suicide was the leading cause of death among both 10- to 14-year-olds and 15- to 19-year-olds in 2000.
Although suicide is a major health issue for teens, the National Institute of Mental Health has no nationwide data available on attempted suicide. But the 2003 Gallup Youth Survey* does offer some insight on this issue.
Teen Awareness of Suicide and Suicide Attempts
A large percentage of American teens seem to have had at least some personal connection to the subject of suicide. When asked in the Gallup survey if they personally know of any teen-agers who have attempted suicide, 47% of teens (aged 13 to 17) say yes.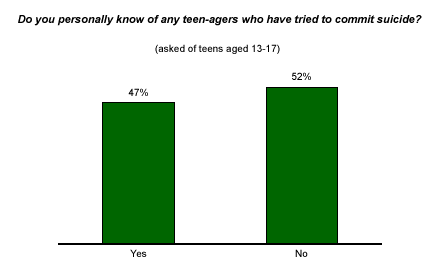 Furthermore, more than a third of teens (37%) say they have discussed suicide with friends. However, survey responses on issues such as suicide are only broad indicators and shouldn't be taken as precise indicators of the actual incidence of suicide. The high percentage of teens who report that they have heard suicide discussed may reflect very casual mentions. But the high percentage of teens who answer positively to these questions about suicide suggests that it is a real issue for teen-agers today.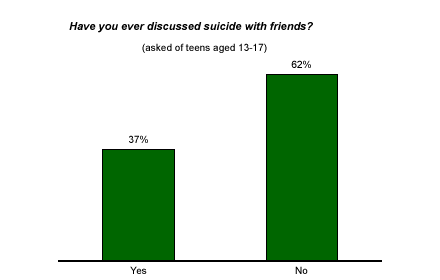 Gallup also asked teens if they, themselves, had ever talked about, thought about, or come close to committing suicide. A quarter (25%) of teens admit to talking or thinking about suicide, and 9% say they have come close to attempting it.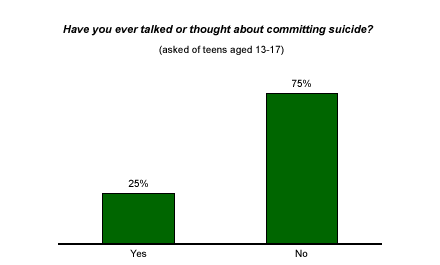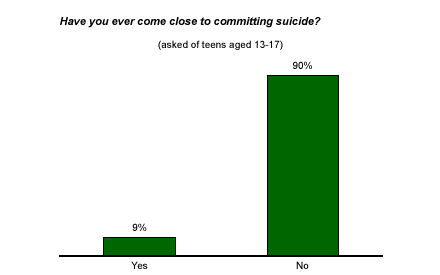 NIMH estimates that there are anywhere from 8 to 25 attempted suicides for every one completion. Gallup asked teens if they have ever actually tried to commit suicide; the percentage of teens who answered "yes" (7%) is quite close to the percentage who admit to coming close to attempting suicide.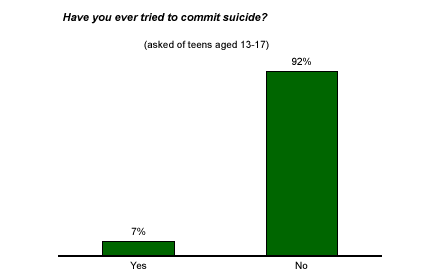 Bottom Line
NIMH reported that among teens aged 15 to 19, there were 1,615 deaths from suicide in 1999. Addressing this issue requires early identification and treatment of the problem, and it seems that society is currently doing a poor job in this respect. At a conference held on this issue in April 2000, Dr. Jan Fawcett, chair of the psychology department at Rush-Presbyterian St. Luke's Medical Center in Chicago, reported that more than half of those who commit suicide have had no recent contact with health professionals (see Related Sites).
If this disturbing trend is to be reversed, public education of parents, educators, and health professionals must help build awareness of the risk factors for youth suicide, such as aggressive or disruptive behaviors, alcohol or substance abuse, and depression.
*The Gallup Youth Survey is conducted via an Internet methodology provided by Knowledge Networks, using an online research panel that is designed to be representative of the entire U.S. population. The current questionnaire was completed by 1,200 respondents, aged 13 to 17, between Jan. 23-Feb. 10, 2003. For results based on the total sample, one can say with 95% confidence that the maximum margin of sampling error is ±3%. For a complete description of the sampling and weighting procedures used to conduct the survey, click here.