This article is the third in a series introducing Gallup's new Religious Tolerance Index.
The previous two articles exploring Gallup's new Religious Tolerance Index defined the three levels of religious tolerance (integrated, tolerant, and isolated) and looked at the links between those levels and the outcomes of life satisfaction, community service, and spiritual commitment. In the coming weeks, we will drill deeper into the data from Gallup's November to December 2002 survey*, looking at differences in tolerance among various segments of the population. This week's article looks at differences by race and gender.
Race
Though sampling restrictions make more specific racial breakdowns unreliable, it does appear that nonwhite (predominantly Hispanic and black) respondents are more likely to be integrated or tolerant in their attitudes toward other religions than whites are -- 45% of nonwhites fall into the integrated category vs. 35% of whites. Whites make up the difference in the tolerant category: 48% of whites fall into this group vs. 38% of nonwhites. There is no difference between whites and nonwhites in the number of isolated respondents: 17% of each fall into this category.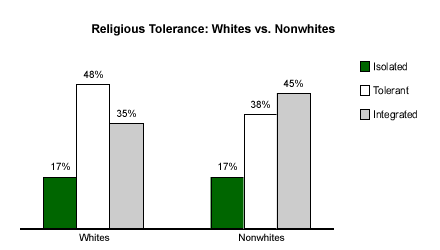 Gender
Women appear to be more likely than men to seek an understanding of those with different religious traditions. Forty-three percent of women are integrated, compared to 30% of men. Women are less isolated in their religious attitudes than men are (13% vs. 22%).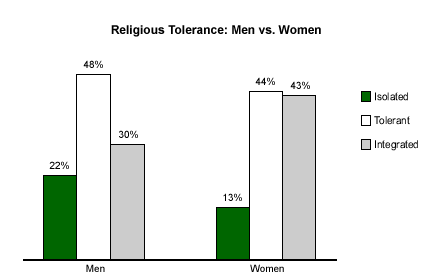 Bottom Line
Whites are more prone than nonwhites to adopt a "laissez-faire" attitude toward other religions, scoring highest in the tolerant category. Nonwhites, on the other hand, are more likely than whites to be integrated, being open to learning from others of different faiths and feeling a sense of mutual respect. Even though men are more isolated in their religious attitudes, the majority of both men and women have a general openness to others of different religious faiths. Women, however, are more likely than men to be integrated.
*Results are based on telephone interviews with 1,000 adult members of a church, synagogue, or other religious faith community, aged 18 and older, and 500 non-members, conducted in November and December 2002. For results based on this sample, one can say with 95% confidence that the margin of sampling error is ±2.6%.