After months of declining consumer confidence, suddenly American consumers seem to be a little more optimistic. Thirty-six percent of Americans believe economic conditions in the country as a whole are getting better, up from 23% in the first week of March. These numbers are promising, although the percentage of Americans with a positive economic outlook has fallen a little from 39% in the first week after the war began, and is still way below the highs of the 1990s.
Even as consumer confidence begins to rear its head again, in the face of troubling unemployment numbers and a struggling corporate sector it might take much more than a dash of optimism to improve the economic outlook.
A Certain Victory
"Our victory in Iraq is certain, but it is not complete," President Bush declared on April 15, according a report from The Associated Press. As political uncertainties ease and the hope of stable financial markets and lower energy prices becomes reality, we are seeing an upward trend in Gallup's consumer confidence measures.
While the margin of Americans who rated the economy as excellent or good compared to those who rated it as poor stood at -10 percentage points before the war (in a March 3-5 survey, 22% of Americans rated economic conditions as excellent or good and 32% rated them poor), that margin has recovered to positive territory in the three weeks since the war began and stood at plus-five percentage points (27% saying conditions are good or excellent, 22% saying conditions are poor) in Gallup's April 7-9 poll*. These are the most positive numbers we have seen since the beginning of the year, with the exception of the initial "rally effect" when 33% rated the economy excellent or good during the first week of the war.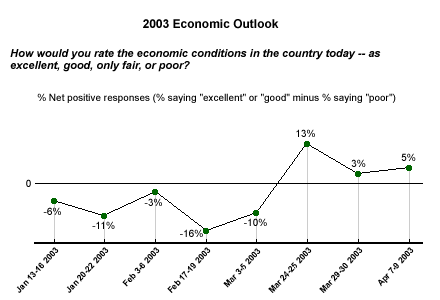 The Confidence Trick
As the strong March retail numbers suggest, consumers have done a valiant job of supporting the economy, but according to March 4 remarks by Alan Greenspan, consumer spending has been largely fueled by the $700 billion in equity that Americans extracted from their homes in 2002. In the worst case, we could be in the midst of another asset bubble, but in any case, we will undoubtedly see at least a slowdown in mortgage debt expansion. Either scenario does not bode well for consumer spending.
Rising unemployment and consumer debt further undermine the hope of a consumer-led recovery. For two years now, about 50% of Americans have believed that the outlook for jobs will worsen in the next six months, and this percentage stood at 43% in the April 7-9 survey -- a five-percentage-point improvement since January. Yet given that payroll employment fell sharply in February and March (and will most likely fall in April as well), and manufacturing employment has fallen for 32 months in a row, the modest upward movement in the American employment outlook is hardly any respite.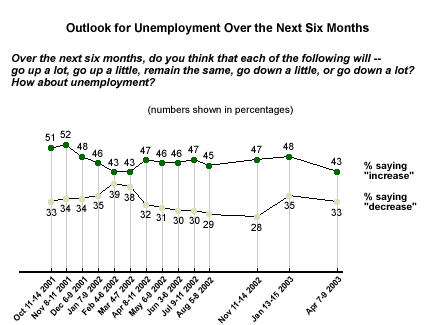 A Lonely Party
Even though consumer spending represents two-thirds of all economic activity, businesses need to join the party for this recovery to be real. According to the April survey, 42% of Americans feel that business conditions in their communities are either "not too good" or "bad." In March, industrial production fell by .5%, and industrial capacity utilization was at its lowest in 15 months at 74.8%. In the factory sector, capacity utilization is at its lowest level since May 1983. Even considering the distortion created by the poor performance of the utilities sector and the fact that firms held back production because of the uncertainty of war, these numbers imply that the outlook for capital expenditure is poor. And faced with deteriorating pricing power, firms are bound to have poorer margins.
Bottom Line
Despite all these uncertainties, the good news is that fragile as it might be, consumer confidence is beginning to recover. And as policy-makers prepare to meet on May 6, the economy might just get by with a little help from the Federal Reserve.
*Results are based on telephone interviews with 1,018 national adults, aged 18+, conducted April 7-9, 2003. For results based on the total sample of national adults, one can say with 95% confidence that the maximum margin of sampling error is ±3 percentage points.