Internet use has become ubiquitous among American teens, but how many parents know exactly what their kids spend all those online hours doing? The latest Gallup Youth Survey* asked heavy Internet users -- kids aged 13 to 17 who said they spend five hours or more a week on the Internet -- what sorts of things were keeping them occupied.
Overall, about 3 in 10 teens (30%) said they spent five or more hours per week online. Of those who spend five or more hours a week online, almost all -- 96% -- said that they used the Internet for sending and receiving e-mail. The same percentage (96%) also said they used the Internet for finding information. A large percentage (87%) said they used an instant messaging service to chat with friends and a sizable proportion used the Internet for downloading music (73%). Less common activities included visiting with people they don't know in chat rooms (39%) and shopping (31%), which came in last among activities that teens were asked explicitly about.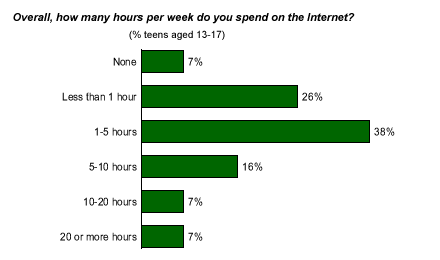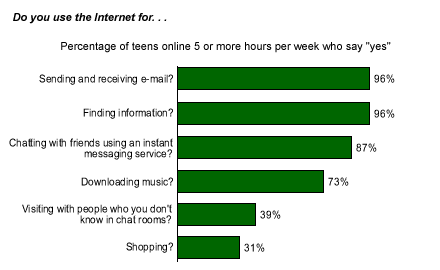 When these teens were asked what else they use the Internet for, the most frequently volunteered item was games, mentioned by 18%. Homework was volunteered by 14% of teens who used the Internet for at least five hours.
How do the online behaviors of teens who are online five or more hours a week differ from those of the overall sample of teens? As the graph shows, the big differences show up when it comes to downloading music -- less than half (48%) of teens overall said they do so, compared with 73% of teens who heavily use the Internet. A second big difference concerns chatting with friends using an instant messaging service -- done by 65% of teens overall, but by 87% of heavy Internet users.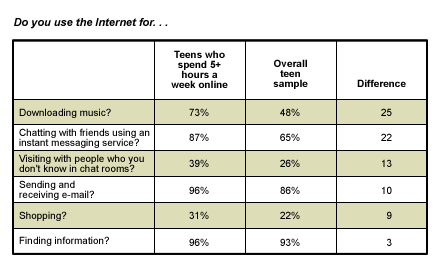 *The Gallup Youth Survey is conducted via an Internet methodology provided by Knowledge Networks, using an online research panel that is designed to be representative of the entire U.S. population. The current questionnaire was completed by 1,200 respondents, aged 13 to 17, between Jan. 23-Feb. 10, 2003. For results based on the total sample, one can say with 95% confidence that the maximum margin of sampling error is ±3%. For a complete description of the sampling and weighting procedures used to conduct the survey, click here.