Political ideology plays a starring role in American social discourse; conservative, moderate, and liberal worldviews establish the boundaries of nearly every political, social, and economic debate. Gallup polling conducted earlier this month gauged the prevalence of those worldviews by asking Americans to position themselves on a scale from "very conservative" to "very liberal" with regard to social as well as economic issues. On both scores, Americans are much more likely to identify themselves as conservatives than as liberals. Self-described moderates are about as prevalent as conservatives.
However, the results should be considered with the caveat that the questions measure Americans' willingness to associate with the various labels commonly used in political discourse; they do not evaluate respondents' views on specific issues. Indeed, Gallup research on topics ranging from taxes to homosexual rights suggests that the percentage of Americans holding beliefs that are commonly perceived as liberal is probably somewhat greater than the percentage willing to associate with the liberal label.
Stable Trends
The May 5-7 survey* indicates that Americans tilt somewhat toward the conservative side when it comes to social issues, and even more so on economic issues. Specifically, on social issues 37% identify themselves as "very conservative" or "conservative" compared to 23% who say they are "liberal" or "very liberal." Thirty-eight percent say they are "moderate" on social issues. These results are essentially unchanged from polling conducted since 1999, indicating no dramatic swings in American ideology since that time.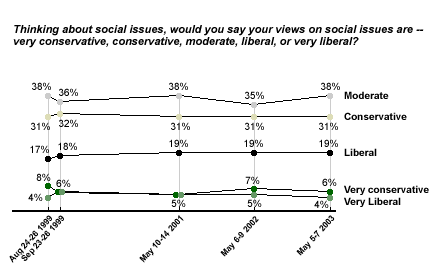 On the economic dimension, 43% of U.S. adults currently identify as conservative or very conservative, 40% say they are moderate, and 15% say they are liberal or very liberal. Again, the trend on this question is very stable over the last four years.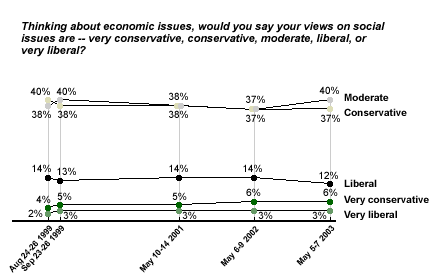 Identifying Conservatives and Liberals
Ideology tracks closely with political identification. But whereas on both economic and social issues a majority of Republicans identify themselves as conservatives -- Democrats are generally torn between the liberal and moderate labels. The partisan gap is seen most clearly with respect to the liberal label. While less than 10% of Republicans say they are liberal on either economic or social issues, a quarter of Democrats (24%) say they are liberal on economic issues and more than a third (36%) say they are liberal on social issues.
The liberal label also reveals distinctions among other groups. Young adults (18- to 29-year-olds) are the most likely to classify themselves as liberal on social issues (33%). Geographically, residents of the Western United States are the most likely to say they are socially liberal (31%), while residents of the South are the least likely to do so (16%). Race is also a major factor. Specifically, 40% of whites say they are conservative on social issues, 37% say they are moderate, and 21% identify as liberal. Among nonwhites, just 25% say they are conservative, 41% are moderate, and 31% are liberal.
Gallup finds differences by gender on economic ideology. Among men, 46% say they are conservative on economic issues, while 37% are moderate and 15% are liberal. Among women just 40% say they are economic conservatives, 43% identify as moderates, and 15% are liberal. There are also differences by race on this question -- 46% of whites identify as conservative, 40% say they are moderate, and just 12% identify as liberal. Among nonwhites, one-third (33%) are conservative, 40% are moderate, and 24% are liberal.
The Marriage Gap
On both social and economic ideology, married Americans are more likely to say they are conservative than those who are not married. On social issues, 45% of married people say they are conservative, compared to 28% of unmarried people. On economic issues, 49% of married respondents identify as conservative, compared to 37% of the unmarried respondents.
*Results are based on telephone interviews with 1,005 national adults, aged 18 and older, conducted May 5-7, 2003. For results based on the total sample of national adults, one can say with 95% confidence that the margin of sampling error is ±3%.