Though not as politically driven as their views of Congress and the presidency, Americans' attitudes toward the U.S. Supreme Court have been noticeably related to their party preferences in recent years. This trend may be further heightened by the possible resignation of one or more Supreme Court justices this year.
In what may turn out to be the prelude to an intense confirmation struggle, last week's request by Senate Minority Leader Tom Daschle for a bipartisan discussion on ways to mitigate party conflict over possible Supreme Court nominees was dismissed by the White House as "idle chit chat."
The exchange reflects increasing speculation that Chief Justice William Rehnquist, 78, and/or Justice Sandra Day O'Connor, 73, may announce their retirements in the next month so the Senate can hold confirmation hearings before the court reconvenes in October. President Bush's nominees could potentially make a huge impact on such highly contentious partisan issues as abortion, the death penalty, and affirmative action.
Tide of Partisanship
The question arises: Despite the Supreme Court's standing as an officially non-partisan, extra-political institution, to what degree is the average American's amount of faith in the court connected to his or her own political affiliations? And as it winds down its latest term this week, how much confidence do Americans have in the highest court in the land? Gallup recently conducted its annual survey of Americans' levels of confidence in major social and political institutions*; the results suggest that in recent years, partisanship has been influencing people's confidence in the court to a greater degree than it has in the past.
Overall, just under half (47%) of Americans say they have a "great deal" or "quite a lot" of confidence in the U.S. Supreme Court** -- a level typical of the last few years -- putting it below the presidency (55%), but well above Congress (29%). The trend rose to the mid-50% range in the 1980s, before falling to an all-time low of 39% in 1991. At that time, public confidence in the Supreme Court may have been shaken by the highly publicized Senate hearings preceding Clarence Thomas' confirmation as an associate justice.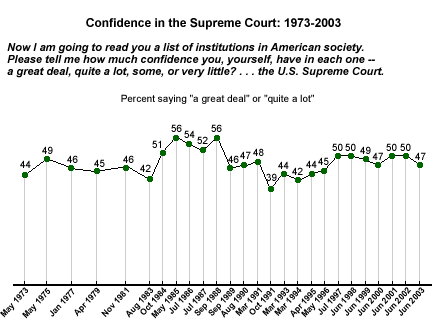 Earlier Gallup Polls have shown very little difference in Republicans' and Democrats' expressed confidence in the Supreme Court. For example, in 1979, during the Carter administration, 45% of Americans said they had a great deal or quite a lot of confidence in the Supreme Court, including 47% among Republicans and 46% among Democrats. Several years later in 1986, shortly after Ronald Reagan nominated Antonin Scalia to the court (his second appointment), confidence levels were generally similar (54% overall), though they were slightly higher among Republicans (57%) than among Democrats (52%).
In 1991, a 10-point gap separated the proportions of Republicans and Democrats who expressed confidence in the court -- a difference that probably reflects the contentiousness of the Thomas nomination fight. That gap closed in the mid-1990s, when the two percentages tracked very closely with one another.
Partisan differences arose again in 1999, in the highly charged atmosphere following the Clinton impeachment trial, which Rehnquist presided over. In 1999, Democrats were significantly more likely than Republicans to have a great deal or quite a lot of confidence in the court. Those positions reversed dramatically following the Supreme Court's decision denying Al Gore's petition for a vote recount in Florida, which ensured George W. Bush would be elected president. In June 2001, Republicans were considerably more apt to express confidence in the Supreme Court than Democrats, as they are again in this year's poll.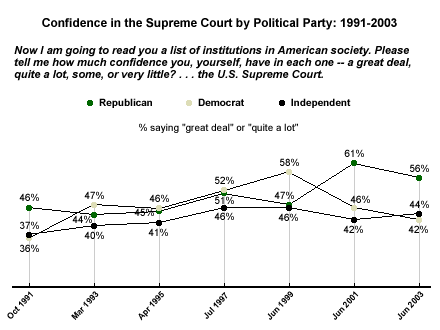 Bottom Line
Americans' current willingness to trust the Supreme Court as an institution seems to be more closely tied to party preference than it has in the past. Despite its nominal standing as a non-partisan and non-political institution, the court is often at the center of highly politicized partisan issues that tend to split public opinion. Another possible consideration is the fact that Republicans currently control both of the other branches of government, whereas the divided government of the Clinton years may have made many Americans feel more secure in the political balance -- and thus less concerned about the makeup of the court.
In any case, if confirmation hearings do take place this summer, the heightened sense of partisanship surrounding the court may create a political tinderbox -- igniting a firefight that could last through next year's election cycle.
*These results are based on telephone interviews with a randomly selected national sample of 1,029 adults, aged 18 and older, conducted June 9-10, 2003. For results based on this sample, one can say with 95% confidence that the maximum error attributable to sampling and other random effects is ±3%. In addition to sampling error, question wording and practical difficulties in conducting surveys can introduce error or bias into the findings of public opinion polls.
**Data collection was completed prior to the Supreme Court's concluding its casework this year, including controversial decisions on affirmative action and homosexual relations.