This is the second in a series of articles on the health issues facing the "baby boomer" generation.
As the presidential election cycle draws ever nearer, grand visions for reforming the U.S. healthcare system are becoming as common as summer vacation plans. President Bush is pushing a proposal to use incentives to persuade seniors on Medicare to enroll in private health plans; meanwhile, Congress is working on its own prescription drug coverage plan. Republicans are touting private competition as a way to strengthen Medicare, while Democrats see these privatization plans as the death knell for it. Democratic presidential candidate Rep. Richard Gephardt of Missouri wants to use tax credits to encourage businesses to expand their health coverage; Republicans denounce this strategy as a return to "big government."
Many factors are fueling this urgent push for healthcare reform, but one of the biggest is the potential cost burden when millions of baby boomers become eligible for Medicare in the next 10 years. What do baby boomers think about the state of the healthcare system and the cost of healthcare today? According to an analysis of aggregated results from Gallup's annual Health and Healthcare polls* between 2000 and 2002, the current healthcare system leaves much to be desired in the eyes of the baby boomers.
State of the U.S. Healthcare System Today
If concern about the current state of the U.S. healthcare system is any indication, baby boomers (currently between the ages of 39 and 57), should be most supportive of the current efforts to change the system. Two-thirds (67%) of 39- to 57-year-olds say the U.S. healthcare system has major problems or is in a state of crisis. Baby boomers are significantly more likely than younger Americans (aged 18 to 38) to say that the U.S. healthcare system is in a state of crisis or is having major problems, by a margin of 67% to 48%.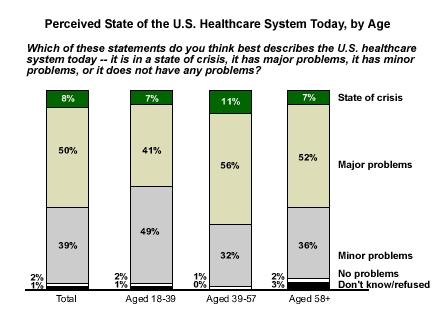 This issue resonates somewhat more strongly among baby boomer women. Seventy-two percent of women in this age group say the healthcare system is in a state of crisis or has major problems, compared to 62% of male boomers. Conversely, 36% of baby boomer men think the system is experiencing only minor problems, compared to 27% of baby boomer women.
Cost of Healthcare Is a Boomer Dissatisfier
The skyrocketing cost of healthcare could be the main force driving baby boomer concern about the state of the U.S. healthcare system. Gallup asked Americans about their general level of satisfaction or dissatisfaction with the total cost of healthcare in the United States. While all age groups tend to be overwhelmingly dissatisfied, the data show that baby boomers are less satisfied than those in other age groups. Four in five baby boomers are dissatisfied with the cost of healthcare in America. Again, boomer women (85% of whom are dissatisfied) are more negative on the subject than boomer men are (75% are dissatisfied).
Baby Boomers: A Key Health Reform Target
From a baby boomer perspective, Democratic presidential hopeful John Kerry, D-Mass., may be right on track with his proposed health plan, which is focused primarily on curbing healthcare costs. Two-thirds of baby boomers think the system has major problems, and 8 in 10 are dissatisfied with healthcare costs. Most baby boomers are still in the workforce, so Gephardt's plan for business tax credits to reduce health premium costs may also be well-received by this group.
In any case, the president and his rivals are definitely on the right track in seeking a solution to the country's healthcare problems before the baby boomers hit retirement. If the current problems are not addressed, aging baby boomers will direct more and more dissatisfaction toward the imperiled Medicare system -- a scenario that both the president and Congress would like to avoid.
*Results based on an aggregate of telephone interviews with 2,006 American adults, aged 18 and older, conducted from 2000 through 2002. For results based on the total sample, one can say with 95% confidence that the maximum margin of sampling error is ±2.4%.