As Congress reconciles the sweeping differences between the Senate and House Medicare bills, Gallup survey results suggest that the legislation isn't arriving a moment too soon -- healthcare remains at the top of a short list of basic necessities that Americans are hard-pressed to pay for.
According to the latest U.S. Census estimates, 12% of Americans currently live below the poverty line and 15% have no health insurance. But a Gallup social audit* conducted between December 2002 and February 2003 suggests that much healthcare-related deprivation exists outside these official statistical boundaries.
Twenty-one percent of the nation's adults told Gallup that they did not have enough money in the past year to pay for medical or health care. Results from this same survey indicate that 13% of Americans were unable to buy needed food, and 17% were unable to afford needed clothing. About a quarter of Americans (27%) experienced one or more of these three deprivations in the past year. (See "How Wide Is the Black-White Deprivation Gap?" in Related Items). Of these three types of deprivation, inability to pay for healthcare remains most prevalent and persistent.
The percentage of Americans who report being unable to pay for medical and health care in the past year has remained virtually unchanged in the nearly 20 years since Gallup first asked this question. In 1984, 25% of the nation's adults -- not much higher than the percentage in the current survey -- reported that they did not have enough money to pay for healthcare in the past year.
Who is likely to struggle the most to afford healthcare? Race and gender seem to be significant factors. Black adults are nearly twice as likely as white adults to report healthcare deprivation (34% vs. 18%). Women are more likely than men (26% vs. 17%) to say that they were unable to pay for medical care. Households with children are more at risk for healthcare deprivation, and black adults with children in the household are 16 percentage points more likely than white adults with children to have been unable to pay for medical and health care in the past year.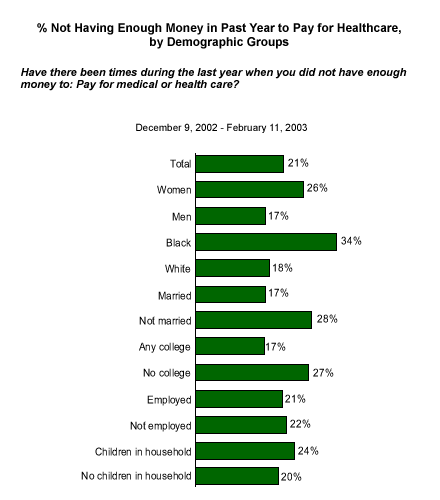 Not surprisingly, there is a strong relationship between not having enough money to pay for medical care and worrying about one's personal finances. Although 26% of Americans worry about their personal finances all or most of the time, 51% of those who have been unable to pay for healthcare in the past year express this level of worry.
*Gallup conducted 1,044 telephone interviews from Dec. 9, 2002, through Feb. 11, 2003, with a randomly selected sample of adults in the continental United States. We interviewed roughly equal numbers of black and white respondents, permitting more reliable estimates of black opinion than would be possible in a standard national sample of a similar size. For our total sample of 1,044, one can say with 95% confidence that the margin of sampling error for percentages is not greater than ±5%. The parallel margins of sampling error are ±6% for the sample of 505 white respondents, and ±6% for the sample of 501 black respondents.