The $350 billion tax cut signed into law last month has inspired unending discussion about the Bush administration's handling of the economy. Supporters say the cut will create jobs, fix the economy, and ultimately lead to a balanced budget. Critics say the bill will torpedo the economy, create more poverty, and bring enormous budget deficits.
U.S. Treasury Secretary John Snow said, "The historic agreement between the House and the Senate on the president's 'Jobs and Growth Plan' is a great victory for hardworking Americans." On the other hand, Warren Buffett, Forbes magazine's second-richest person in America, critiqued the Senate's version of the plan in a May 20 Washington Post editorial: "Putting $1,000 in the pockets of 310,000 families with urgent needs is going to provide far more stimulus to the economy than putting the same $310 million in my pockets."
Much of the economic analysis of the tax cut revolves around who will benefit the most. But with regard to public opinion, that may not be as contentious a factor as one might expect. With regard to one of the bill's most divisive aspects -- the reduction in dividend taxes -- those who stand to save the most are relatively ambivalent.
Dividend Division
The dividend tax cut -- a reduction or elimination of the taxes people pay on some stock dividends -- posed a significant stumbling block in the bill's passage. But not even investors -- the ones who will benefit from slashing dividend taxes -- necessarily agree that the cuts will be much use to them.
In the June UBS/Gallup Index of Investor Optimism survey*, Gallup asked investors with $10,000 or more in investable assets what impact they think the tax cut will have on their personal financial situations. Thirty-nine percent said it would help, 50% said it would have no effect, and 8% said it would hurt.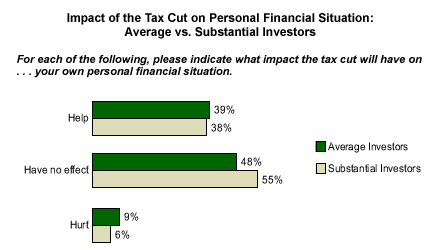 The results are also similar when looking at "average" investors (those with less than $100,000 in investable assets) and "substantial" investors (those with $100,000 or more in investable assets). Thirty-nine percent of average investors said the cut would help their own financial situations, compared to 38% of substantial investors. Forty-eight percent of average and 55% of substantial investors said it would have no effect. Nine percent of average and 6% of substantial investors said the tax cut would hurt them financially. Average and substantial investors also gave similar responses when asked about the effect of the tax cut on the U.S. economy.
*Results are based on telephone interviews with 1,008 investors, aged 18 and older, conducted June 1-11, 2003. For results based on the total sample of investors, one can say with 95% confidence that the margin of sampling error is ±3%.