Results from June Gallup Polls conducted in the United States and Canada* suggest that an economic recovery is inching forward in both countries. Gallup measures of satisfaction with current economic conditions, the outlook for the economy, and broad satisfaction with the way things are going in both countries have improved substantially since January and February 2003, when simultaneous polls were last conducted in Canada and the United States.
Economic data released last week, including news of strong second-quarter GDP growth and increased consumer and business spending, seem to indicate that the American economy was on the mend last quarter. Early indications from the recent Canadian Gallup Poll suggest that Canada may not be very far behind.
The Glass is Half Full in Canada
As of June 2003, 52% of Canadians rated economic conditions in their country as excellent or good. In stark contrast, only half as many Americans (26%) said the same in June, and this number fell to 22% when we asked the question of Americans in early July.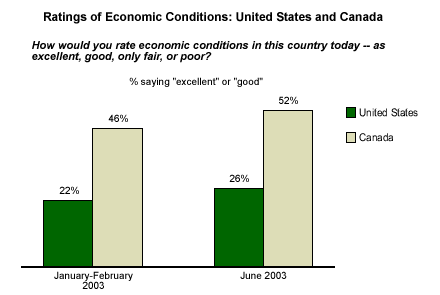 It is puzzling to see such a significant difference between the two countries in excellent/good ratings on the current economic condition question, when their growth has been so highly correlated. One explanation lies in the American unemployment rate, which has climbed from 4% in 2000 to a nine-year high of 6.4% in June. While the Canadian unemployment rate has climbed as well, from 6.8% in 2000 to 7.7% to date, the increase has been much smaller.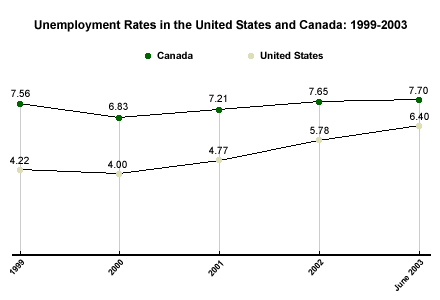 It is a documented fact that unemployment is tremendously damaging to subjective wellbeing (see "Happiness and the Jobless Recovery" in Related Items), and the strain of unemployment in America is telling in these numbers. At 67.5%, the Canadian participation rate (the proportion of the total number of persons in the labor force to the total population aged 15 years and older) has climbed higher in recent years, while the U.S. participation rate, at 66.6%, has fallen off since the highs of the dot.com expansion.
Another factor to consider is the output gap. Projections from the Organisation for Economic Co-operation and Development predict the Canadian economy will perform at its full potential in 2003; in the United States, on the other hand, economic growth is slated to be more than 2% below potential GDP growth of the economy.
Optimism on the Margin
Since Gallup last asked about respondents' economic outlooks in both Canada and the United States (in January and February), the percentage of Americans and Canadians saying they expect that economic conditions will get better has increased. The positivity differential among Americans (those who expect economic conditions to get better minus those who expect them to get worse) was at +2 in June and -4 in July, recovering vastly from the low of -44 it hit in early March. In Canada, this net percentage was -16 in January and February, but the number is now far less disturbing at -3.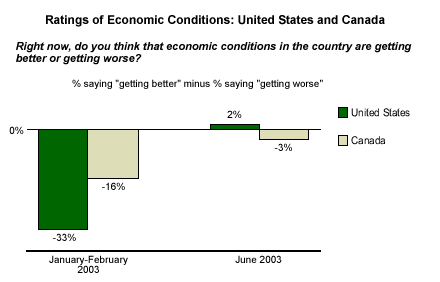 Bottom Line
In both the United States and Canada, economic ratings showed some positive momentum last quarter. U.S. markets also saw a spate of good economic reports on the second quarter last week. In Canada, the economy showed growth in June after grinding to a halt in April in the midst of the SARS scare, and there was a corresponding rise in optimism among Canadian consumers as well. Despite the job losses and decline in U.S. consumer optimism in July, the second quarter numbers suggest that a growth story for the second half of the year is beginning to sound credible in both the United States and Canada.
*Results in the United States are based on telephone interviews with 1,006 national adults, aged 18 and older, conducted June 12-15, 2003. For results based on the total sample of national adults, one can say with 95% confidence that the maximum margin of sampling error is ±3 percentage points.
Results in Canada are based telephone interviews with 1,001 national adults, aged 18 and older, conducted June 11-17, 2003. For results based on the total sample of national adults, one can say with 95% confidence that the maximum margin of sampling error is ±3 percentage points. Results for the Canada may not equal 100% due to rounding error.
In addition to sampling error, question wording and practical difficulties in conducting surveys can introduce error or bias into the findings of public opinion polls.