At two crucial points this year, Gallup asked Britons if they approved of the way Tony Blair was handling his job as prime minister: in March (before the war with Iraq began), and later in June* (after the major action in Iraq ended). At both junctures, Blair's approval ratings were under 50% -- 43% and 46%, respectively. At 53%, more than half the nation disapproved of the way he was handling his job in March, and disapproval remained high in June at 48%.
The Decline of Camelot
Whatever happened to the British public's enchantment with the Labour Party's "New Camelot"? While the handling of the situation in Iraq has likely damaged Blair's credibility, the shaky British economy is not helping his case either. Britain's economic symptoms are familiar to those in America -- a slowdown in GDP growth, a manufacturing sector in recession, and decreased capital spending. Consumer spending fueled in large part by mortgage refinancing kept the British economy going for a while, but has slowed in recent months, and household balance sheets are weak given record levels of debt.
The Good News
The economic news is not all bad in Britain. In March, when Gallup asked Britons to rate economic conditions in the country, 30% described the economy as good or excellent. By June, the percentages improved and 41% of Britons rated the economy as good or excellent.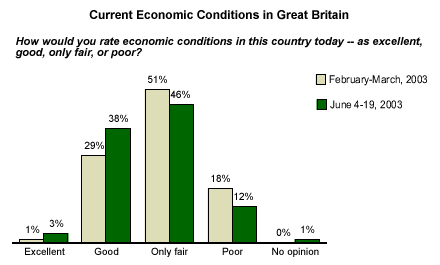 Gallup's data also confirms positive momentum in consumer outlook for an improving economy in the second quarter. While 21% of all Britons believed that economic conditions in the country were getting better in March, the number who expressed the same sentiment in June increased to 33%. In March, nearly 7 in 10 people in Great Britain believed that economic conditions were getting worse. And while 51% still remained pessimistic about future economic prospects in June, the fact remains that consumer optimism has staged a modest recovery at the very least.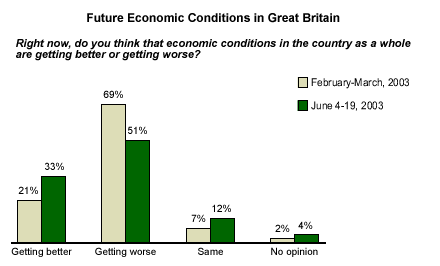 Bottom Line
According to Gallup's June poll, there has been a marked improvement in British consumer outlook for the economy, an improvement that was surely predicated on the near-term victory in Iraq and improved economic releases in Britain. Most importantly, the increasing likelihood of an American recovery in the second half of 2003 bears good tidings for the British economy. But as America remains at risk for deflation, deficits, and other economic evils, Britons would do well to remain cautiously optimistic.
*Results in Great Britain are based telephone interviews with 1,009 national adults, aged 18 and older, conducted June 4-19, 2003. For results based on the total sample of national adults, one can say with 95% confidence that the maximum margin of sampling error is ±5 percentage points. In addition to sampling error, question wording and practical difficulties in conducting surveys can introduce error or bias into the findings of public opinion polls.