Ask 10 Americans what the word "addiction" means, and you might get 10 different answers. The definitions will be subjective and infused with political and moral values. These beliefs determine how our society treats addictions -- medically, socially, and economically.
According to Gallup's annual Consumption Habits survey*, 82% of smokers would like to give up smoking, and almost three-fourths (72%) consider themselves addicted. Of course, more may actually be addicted but unwilling to see themselves that way (or at least admit it to an interviewer).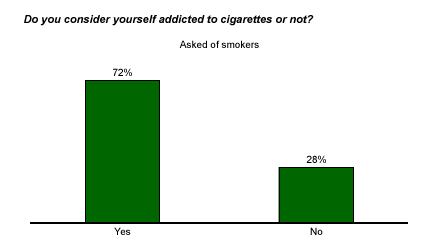 Kicking the Habit
Each year, 34% of America's 47 million smokers try to kick the habit. But only about 5% of those attempts are successful, according to the American Lung Association. Since 1987, nicotine dependence and withdrawal have been recognized as disorders by the American Psychiatric Association, helping to legitimize the experience of millions who have tried unsuccessfully to quit by willpower alone.
As discussed in a previous article (see "Up in Smoke: The Costs of Tobacco Use" in Related Items), smoking addiction becomes a political problem when the cost implications of its treatment are calculated. The Centers for Disease Control and Prevention estimates that smoking-related illnesses cost the nation more than $157 billion each year.
Significant dollars are also spent to reduce tobacco use in an attempt to decrease the future health burden of tobacco-related disease and death in this country. In the 1990s, California alone spent roughly $634 million on tobacco use-reduction efforts. States such as Colorado have put tobacco settlement monies to use. In 2001, the governor of Colorado allocated up to $15 million of the settlement -- each year -- to tobacco education and cessation and prevention programs.
Who Is Addicted?
Nicotine addiction could be better treated if there were a more complete understanding of the addictive state, and perhaps a more reliable indicator of who is addicted can be obtained by looking at the demographic breaks for smokers who say they smoke a pack (20 cigarettes) or more a day. Overall, 44% of smokers say they smoke 20 or more cigarettes a day**. Who are they and where do they come from?
Half of male smokers and 37% of female smokers say they smoke 20 or more cigarettes a day.
More than twice as many white (48%) as nonwhite smokers (22%) say they smoke 20 or more cigarettes daily.
Only 24% of 18- to 29-year-old smokers smoke 20 or more cigarettes a day, compared to 48% of 30- to 49-year-old smokers and 55% of smokers over age 50.
About one in three urban smokers smoke at least a pack a day, while heavy smoking is more common among those living in suburban (44%) or rural (54%) areas.
Bottom Line
As America grapples with the rising costs of healthcare, attention and funding will inevitably turn more toward preventative measures, health maintenance, and wellness programs in order to stave off bigger and more expensive problems. A deeper understanding of the implications of addiction and more widespread education about these factors will help bring to bear the clinical, regulatory, economic, and social influences necessary to alleviate the tobacco use problem.
*Results are based on telephone interviews with 219 smokers, aged 18 and older, conducted July 7-9, 2003. For results based on the total sample, one can say with 95% confidence that the margin of sampling error is ±7 percentage points.
**Results are based on aggregated data from telephone interviews conducted with 691 smokers in 2001, 2002, and 2003. For results based on the total sample, one can say with 95% confidence that the margin of sampling error is ±4 percentage points.