Being president of the United States never was -- and never will be -- an easy job. Just ask George W. Bush, who has endured a particularly trying presidency so far. Bush spent the first few months of 2003 convincing the American people (and the world) that the United States should go to war with Iraq. He then faced the daunting task of fighting that war, and is now entrenched in the even more formidable challenge of rebuilding the Iraqi government. During all this time, the Bush administration has also been plagued with questions about a shaky economy, and the 2004 election is looming nearer.
Despite the ups and downs of Bush's public image this year, data from the most recent Gallup Youth Survey* show that the president has maintained strong support among American teenagers -- some of whom will be old enough to vote in the 2004 election. According to the August 2003 poll, 58% of teens (aged 13 to 17) approve of the job that Bush is doing, while 41% disapprove. These results have not changed significantly since January and February 2003, when 59% of teens approved of the job Bush was doing and 39% disapproved.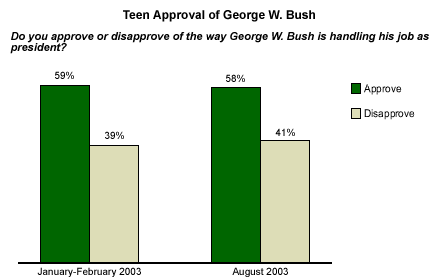 Teens' opinions about the president seem to mirror those of their elders. An August Gallup Poll of adults conducted during the Youth Survey's interviewing period showed a 59% Bush approval rating (it has since dropped to 50%).
Do Gender and Race Affect Teen Bush Approval?
In the most recent poll, boys and girls equally approve of the job the president is doing. Fifty-eight percent of boys and girls say they approve of Bush.
Although boys and girls have similar attitudes about the president, the same cannot be said for white and nonwhite teens. The August poll shows a 31-percentage-point gap in approval between these two groups -- 69% of white teens approve of the job Bush is doing, compared to 38% of nonwhite teens who approve of the job he is doing.
There is a similar gulf in Bush approval between white and nonwhite adults. According to the late August poll, 66% of white adults approved of the job Bush is doing, compared to 35% of nonwhite adults who approved of his performance.
Teens Approve of Bush as a Person
In addition to asking teens if they approve of the job Bush is doing as president, Gallup also asked, "Apart from whether you approve or disapprove of the way George W. Bush is handling his job as president, what do you think of Bush as a person? Would you say you approve or disapprove of him?" In the August poll, Bush received slightly higher marks from teens on this question than on the general job approval question: 66% of teens approve of Bush as a person and 33% disapprove of him. Gallup Polls of adults also show Bush tends to get higher "favorable" ratings than he does approval ratings.
Bottom Line
The tumultuous political and economic developments of the last several months seem to have had little impact on teenagers' feelings about George W. Bush. As recently as August, a majority of teens approved of the job he was doing, despite significant differences of opinion by race and ethnicity. As we have seen in other Gallup polling, teens generally seem to follow adults in their opinions on political issues. So it remains to be seen if teens' views will follow a similar downward trend to that recently observed among adults.
*The Gallup Youth Survey is conducted via an Internet methodology provided by Knowledge Networks, using an online research panel that is designed to be representative of the entire U.S. population. The current questionnaire was completed by 517 respondents, aged 13 to 17, between Aug. 1 and Aug. 29, 2003. For results based on the total sample, one can say with 95% confidence that the maximum margin of sampling error is ±5 percentage points.