This article contains findings from the 35th Annual Phi Delta Kappa/Gallup Poll of the Public's Attitudes Toward the Public Schools, released on Aug. 20 in Washington, D.C.
The No Child Left Behind (NCLB) Act mandates that public schools meet specific student achievement standards -- developed by the individual states. If schools fail to meet these standards, they may be designated as "in need of improvement." Under NCLB, children attending schools identified as needing improvement are eligible to transfer to a school in their district that meets the state-determined achievement standards. While the intent of this law is to allow parents more control over their children's education and to raise the educational bar, some critics worry that it will lead to overcrowding in the higher-achieving schools, and only further harm the schools designated as needing improvement.
What would Americans do if their child attended a school that was identified as in need of improvement? The results of the 35th Annual Phi Delta Kappa/Gallup Poll of the Public's Attitudes Toward the Public Schools* indicate that by almost 3 to 1, Americans would prefer to have additional efforts made to improve the education their children receive at their present school (74%), rather than transfer their child to a different school (25%). In this same survey, it is important to note, relatively few Americans (24%) said they had either a "great deal" or a "fair" amount of knowledge about NCLB, but when asked about some specific aspects of the legislation, adults were quite willing to provide opinions.
In 2003, in New York City alone, roughly 300,000 students were eligible for transfer from 315 schools that were designated as "in need of improvement" and 8,000 students moved to better-performing schools. In Chicago, 19,000 transfer requests were made, while only 1,100 were granted. Failure to grant requests can lead to frustration among parents committed to improving their children's education. On the other hand, the wholesale granting of transfer requests can lead to frustration among parents and teachers in higher-achieving schools, because their class sizes inevitably increase as a result.
American opinion on this issue differs based on political party affiliation. While majorities of both Republicans and Democrats would prefer to improve their child's current public school, rather than transfer to a different school, Republicans are more likely than Democrats to say they would choose the transfer option (31% vs. 18%).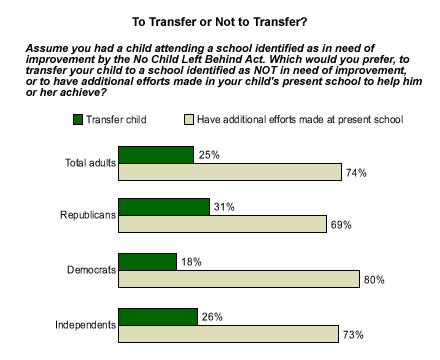 Although most Americans would choose to improve their child's current school over flight to a school that is not in need of improvement, a 2002 PDK/Gallup survey found that 86% of adults feel that the opportunity for students to transfer to another school in their district should be available. In another survey, conducted in December 2002 by the Winston Group for Americans For Better Education, 76% said that parents with children in underachieving schools should be able to transfer their children to a better public school or charter school. These survey results suggest that while most parents want the transfer option to be available, their first preference would be to fix the shortcomings in their current schools.
Do Parents Have Enough Information About Their Local Schools?
Americans are evenly divided on whether they feel that parents in their communities have enough information about the local schools to be able to select another school that is not in need of improvement (47% say they do vs. 50% who say they do not). On this issue, the views of public school parents do not diverge significantly from adults without school-aged children. Given that most Americans -- including parents -- are largely unaware of NCLB, the divided responses on this question are not surprising.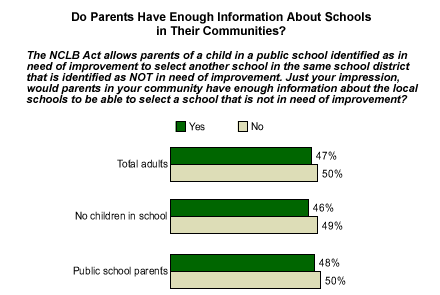 Bottom Line
Americans want educational options for children, including the ability to transfer them out of failing schools. But when given a choice of improving their child's current school if it is failing or transferring to another school in the district, a majority of adults would choose to improve their current school. As for those who would transfer their children, Americans are less than confident that these parents would have sufficient information to choose a superior school.
*The findings of the survey are based on telephone interviews with a random sample of 1,011 U.S. adults, aged 18 and older, conducted from May 28 to June 18, 2003. For results based on this sample, one can say with 95% confidence that the maximum error attributable to sampling and other random effects is ±3 percentage points.