Forty-two percent of Americans have either a "very positive" or "somewhat positive" view of the healthcare industry in the United States, according to an Aug. 4-6 Gallup Poll* in which respondents rated 25 different business sectors. This represents a significant improvement from 2002, when only 30% of Americans expressed a positive opinion of the healthcare industry. But the figure is still low relative to other industries.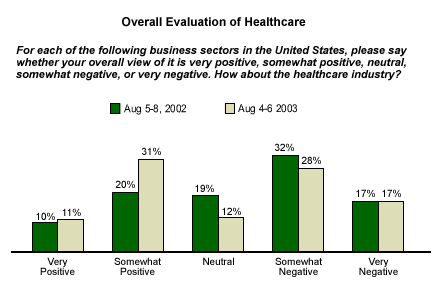 While evaluations of the healthcare industry improved, the percentages of people expressing extreme opinions (that is, either "very positive" or "very negative") did not change significantly. The improvement seems to have come largely from fewer respondents giving a "neutral" rating and a "somewhat negative" rating. However, still more respondents express negative (45%) than positive opinions of the healthcare industry.
Overall Evaluation of Healthcare Remains Low
Of 25 business sectors evaluated in the most recent poll, only two -- the legal field and oil and gas industry -- were less likely than healthcare to be rated positively.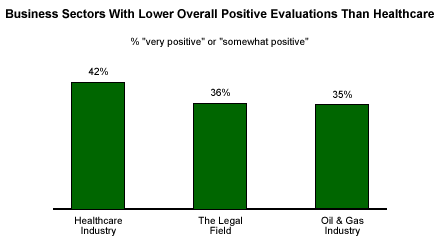 Even more troubling, while healthcare has achieved significant improvement in the percentage of total positive evaluations, there was no significant change in the percentage of total negative evaluations. Of all the sectors tested, healthcare continues to receive the highest percentage of negative evaluations. Only four other business sectors received negative responses from a third or more of the population, and only three sectors (the healthcare industry, the oil and gas industry, and the legal field) received a higher percentage of total negative responses than total positive responses.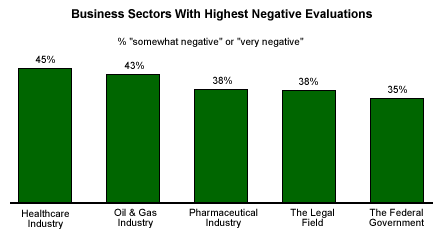 Healthcare an Election Issue?
Already the 2004 presidential candidates are focusing intensely on healthcare issues. Several Democratic presidential candidates -- including Howard Dean -- are pushing for a government-run universal healthcare system.
The Gallup data show differences in the negative assessments of the healthcare industry by political affiliation -- 51% of Democrats and Democratic leaners rate healthcare negatively, compared to 41% of Republicans and Republican leaners. Although both Republicans and Democrats have a relatively low opinion of the healthcare industry, partisan differences on how to improve the situation could lead to congressional gridlock, preventing any meaningful action until after the election. Thus, although its ratings improved in 2003, it seems likely that somewhat negative evaluations of the healthcare industry may persist into 2004.
*Results are based on telephone interviews with 469 national adults, aged 18 and older, conducted Aug. 4-6, 2003. For results based on the sample, the maximum margins of sampling error are ±5 percentage points.