Amid a flood of controversy last June, the U.S. Supreme Court overturned a longstanding Texas anti-sodomy law. While gay rights supporters applauded the decision, conservative political and religious groups expressed outrage. The ruling also prompted widespread speculation in the media that lawsuits related to other gay rights issues, including same-sex marriage, would not be far behind.
Vermont already allows civil unions between same-sex couples, and the Massachusetts Supreme Court is considering a similar ruling. Meanwhile, conservative lobbying groups are pushing Congress to pass a Federal Marriage Amendment, mandating that marriages be performed only between a man and a woman. Gay marriage is clearly a divisive issue in the United States, with passionate proponents on both sides. The latest Gallup data, from an Oct. 24-26 poll, show most Americans opposed (61%) to giving legal recognition to same-sex marriages, while 35% are in favor of doing so. Additionally, recent Gallup polling on same-sex marriage reveals a relatively widespread perception that it would not be good for society. Americans are divided as to their personal views of whether gay and lesbian couples should have the same legal rights as married couples.
Plurality of Americans Feel Gay Marriage Will Negatively Affect Society
A Sept. 19-21 CNN/USA Today/Gallup poll* included two questions about gay marriage and the rights of gay couples, the first of which asked Americans whether they think legalizing same-sex marriage would change society for the better, for the worse, or have no effect. Americans are much more inclined to say it will have a negative effect (48%) rather than a positive effect (10%). However, a sizable minority (40%) believes same-sex marriage would have no effect on U.S. society either way.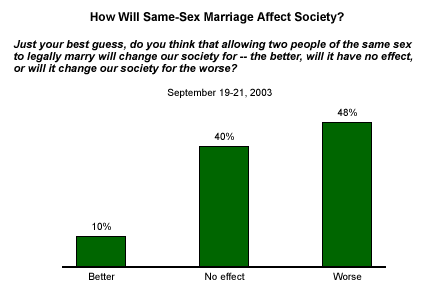 Benjamin W. Bull, chief counsel for the Alliance Defense Fund, an Arizona-based Christian legal organization, is a strong proponent of the view that legalizing same-sex marriage would negatively affect society. "It will so erode and diminish the meaning of marriage as we know it, that as an institution which encourages a certain traditional lifestyle choice, it will no longer exist," Bull says. "When this occurs . . . virtually all sexual behavior and lifestyle choices become value-neutral."
Jessica Greenwald, a 30-year-old fundraising professional for a non-profit organization in Omaha, Neb., agrees with 40% of Americans who don't foresee major societal repercussions, either positive or negative. "If gay marriage were legalized, it wouldn't have much effect on our society," she says. "My view is that gay couples who will commit to marriage are contributing to the stability of society. We tend not to notice those people who seem to 'fit in' to daily life, thus the impact would be minimal."
Americans Evenly Divided on Legal Rights for Same-Sex Couples
The September poll also asked Americans whether they feel that gay or lesbian couples should be given the same legal rights as married couples, or if it doesn't matter to them. On this question, Americans are almost evenly divided among the three responses: 32% said same-sex couples should receive the same rights as married couples, 35% said they shouldn't, and 32% said it doesn't matter to them personally.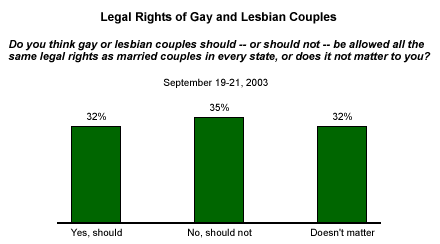 Although just 10% of Americans feel that same-sex marriage would be good for society, nearly a third believe that same-sex couples should receive the same legal rights as other couples. This echoes other Gallup findings that show support for upholding the personal rights of gays tends to be higher than support for homosexuality more generally.
Cathy Renna, news media director for the Gay and Lesbian Alliance Against Defamation (GLAAD) in New York City, sees the response to this question as an indication that Americans are making a distinction between the religious and legal implications of gay marriage. "My hope is that this reflects a deeper understanding of the distinction between the civil and religious components of marriage -- and that while all [religious] denominations should have the freedom to choose whether or not to recognize same-sex relationships, we should all have access to all of the legal rights and protections mixed-gender couples do."
Bottom Line
The only firm conclusion to be drawn from these survey results is that Americans are deeply divided -- and often deeply ambivalent -- on the subject of same-sex marriage. Regardless of the public's feelings about same-sex marriage, it appears the controversy is here to stay. A flurry of gay marriage lawsuits are being filed across the country, and more are sure to come. In addition to the Massachusetts Supreme Court case, a gay marriage case is also being heard in Indiana, and a similar case was dismissed last week by a New Jersey Superior Court judge.
*Results are based on telephone interviews with 1,003 national adults, aged 18 and older, conducted Sept. 19-21, 2003. For results based on the total sample of national adults, one can say with 95% confidence that the margin of sampling error is ±3 percentage points.