On Nov. 24, a jury sentenced John Allen Muhammad to death for his role in last year's sniper-style killings in the Washington, D.C., area. If the presiding judge confirms the sentence, Muhammad will become one of more than 3,500 inmates currently on death row, according to the NAACP Legal Defense & Educational Fund.
A recent Gallup Youth Survey* presented American teenagers (aged 13 to 17) with two questions about the death penalty. One asked if they personally believed it was morally acceptable; the other asked them to choose whether death or life imprisonment should be the penalty for murder.
The results indicate that teenagers are generally comfortable with the use of capital punishment. More than three in five believe that the death penalty is a morally acceptable option, and slightly more than half believe the death penalty (52%) -- rather than life imprisonment (46%) -- is the better punishment for murder.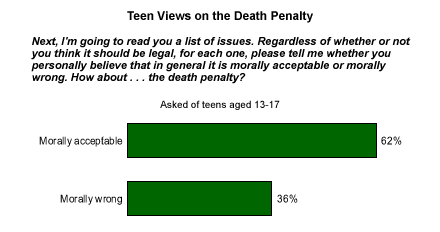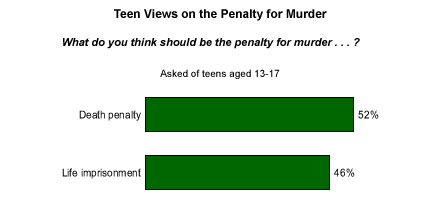 Though the proportion of churchgoing teens who find the death penalty to be morally acceptable is lower than the proportion who do not attend church (57% vs. 67%), a majority of both groups still express support.
Teenage Boys More Supportive of Capital Punishment Than Teenage Girls
Teenage boys express more conservative stances on capital punishment than teenage girls do. Boys are more likely than girls to favor the death penalty as punishment for murder (59% vs. 45%), and to consider the death penalty to be morally acceptable (67% vs. 57%).
Teen Opinions About the Death Penalty Similar to Those of Adults
When asked a similarly worded question about the appropriate penalty for murder in a poll conducted earlier this year**, 53% of adults chose the death penalty, and 44% chose life imprisonment. The proportion of adult death penalty supporters has remained consistent since Gallup first asked this question in 1985, averaging 54%. In the same poll, 64% of adults said that the death penalty was more acceptable.
*The Gallup Youth Survey is conducted via an Internet methodology provided by Knowledge Networks, using an online research panel that is designed to be representative of the entire U.S. population. The current questionnaire was completed by 517 respondents, aged 13 to 17, between Aug. 1 and Aug. 29, 2003. For results based on the total sample, one can say with 95% confidence that the maximum margin of sampling error is ±5 percentage points.
**Results are based on telephone interviews with 1,005 national adults, aged 18 and older, conducted May 5-7, 2003. For results based on the total sample of national adults, one can say with 95% confidence that the margin of sampling error is ±3 percentage points.