Considering that the United States is a nation in which 61% of the overall population says religion is very important in their lives, it is not all that surprising that, according to Gallup data, a similar percentage of American voters will take their religious beliefs with them into the voting booth next year. A November 2003 survey* reveals that 64% of registered voters say their personal religious beliefs and faith will be important in deciding their votes for president. This includes 16% who say these will be "extremely important."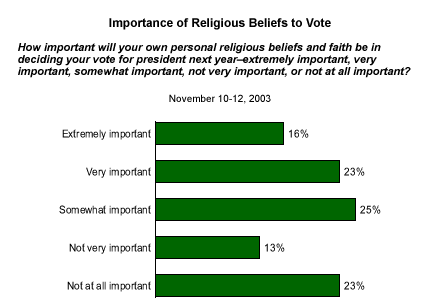 One such voter is Patti Shadbolt, a working mother of two adult children who lives just outside of Omaha, Neb. She says her personal religious beliefs will be "extremely important" in deciding her vote in next year's presidential election. "My beliefs affect every decision I make," she says, and she feels that leaders, too, "are shaped by their values and beliefs." About President Bush, who is the most overtly religious U.S. president in recent memory, Shadbolt says, "He is a man of integrity and prayer, and I respect him for that. Most of our beliefs would be similar." Though Shadbolt emphasizes integrity, she also says their religious similarities make her "comfortable with Bush."
That sentiment may give Bush a needed boost among women in the electorate. Forty-four percent of female registered voters say that their "own personal religious beliefs and faith" will be "extremely" or "very" important in deciding their votes in next year's presidential election. Among male registered voters, that figure drops somewhat to 33%.
The gender gap in the potential influence of religion on the 2004 presidential race represents an opportunity for the Bush team; their challenge is to appeal to the religious women's religious leanings. The challenge for the Democratic candidate (whoever that may be) will be to make a real connection between personal faith and public life -- something that most of the Democratic candidates have not yet done.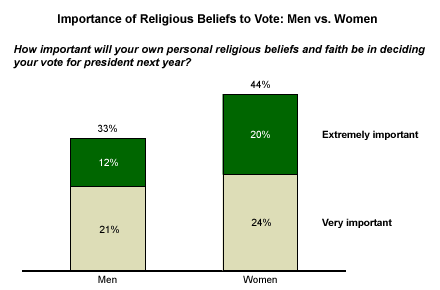 A similar dichotomy regarding religion and politics holds true for white American voters and nonwhite American voters. Although nonwhite voters are far more likely than white voters to disapprove of the job Bush is doing, they are slightly more likely than white voters to say that religion will be important to their votes in 2004.
Location, Location, Location
Geography makes a difference here as well. Forty-six percent of voters in rural areas say that their beliefs will be extremely or very important in their voting next year, as do 41% of voters in suburban areas. However, only 30% of urban dwellers fit into that category. There are more registered voters in suburban areas than in rural or in urban areas, elevating the importance of "soccer moms" (and dads) whose faith is important to them as a key constituency for both Republicans and Democrats.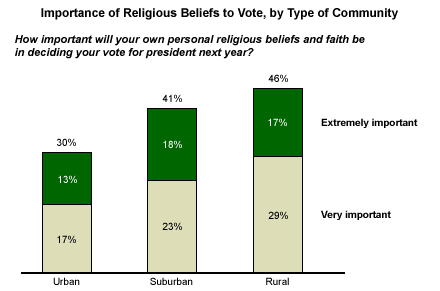 Next week's conclusion will discuss the potential influence of party identification, ideology, and religious beliefs on voters next fall.
*Findings are based on telephone interviews with 867 registered voters, aged 18 and older, conducted Nov. 10-12, 2003. For results based on the total sample of national adults, one can say with 95% confidence that the margin of sampling error is ±4 percentage points.