The Experian/Gallup Personal Credit Index (PCI) falls sharply in early November
PRINCETON, NJ -- Wall Street continues to focus on the corporate evidence of the current credit crunch as financial services firms and those companies holding a significant amount of structured investments report their asset write-downs. Of course, the real question on everyone's mind is more about what the companies involved are not reporting than what they are currently recognizing.
Regardless, it is clear on Main Street that these losses have lenders returning to the underwriting standards of a few years ago. In turn, this is making it much more difficult for consumer borrowers to leverage themselves financially the way they have during recent years.
Most importantly, the plunge in the Experian/Gallup Personal Credit Index (PCI) in November suggests that today's credit concerns on Wall Street and Main Street may have borrowers pulling back on their intensions to expand their credit use, at least in the near term. If this represents a real change in consumer psychology as far as credit is concerned, then retailers have a lot more to worry about than a tightening of consumer loan underwriting standards.
The PCI Near All-Time Lows
The Experian/Gallup PCI fell 17 percentage points in November and now stands at 76. This is close to the lowest level (74 in October 2005 and April and May 2006) for the PCI since its inception in February 2005. Because the PCI is designed to reflect consumers' views of their personal credit situation now and in the future, this sharp drop in the PCI suggests that consumers may try to limit their credit use and credit purchases in the weeks ahead. This is clearly bad news for retailers as the holiday shopping season intensifies.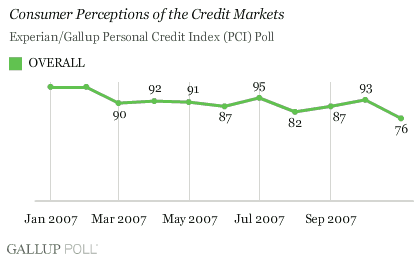 A Bad Time to Borrow
This month, 44% of consumers say it is a somewhat or very bad time to borrow more money. This is up from the 39% who felt this way in October, and it is the highest percentage of consumers feeling this way since February 2005 when Gallup began asking this question on a monthly basis.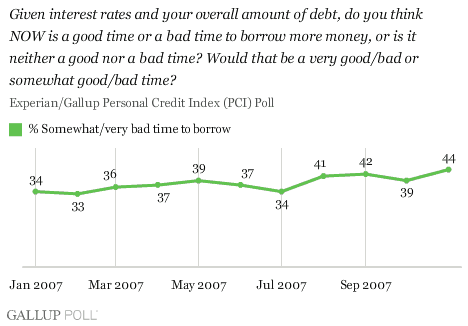 Consumer Psychology and the Propensity to Borrow
Over the past several years, many economic pundits have made a great deal about the resiliency of the American consumer. Quite correctly, they have maintained that the American consumer seems willing to borrow and spend no matter the economic conditions. Even in the face of surging gas prices, falling home prices, and a consumer credit crunch, many observers are convinced that the impact on consumer spending will be modest at worst.
Looking at the results of the most recent PCI poll, however, one must wonder whether many consumers who have never seen the fallout of a credit debacle are not now re-evaluating their credit use. It has been a long time since most Americans were aware of how they could lose their homes and go bankrupt if they became overextended financially. In the past, it has not only been the fear of losing their jobs that has made consumers pull back on their spending and use of credit, but it has also been the fear of losing their cars and homes.
Of course, a significant change in consumer attitudes toward the use of credit would be something of a historic event nowadays. On the other hand, isn't the current residential real estate debacle just that -- a historic economic event?
Survey Methods
Results are based on telephones interviews with 1,010 national adults, aged 18 and older, conducted Nov. 1-8, 2007. For results based on the total sample of national adults, one can say with 95% confidence that the margin of sampling error is ±3 percentage points.