Earlier this month, Massachusetts became the sixth U.S. state to pass a statewide smoking ban, joining California, Connecticut, Maine, Delaware, and New York. Massachusetts' ban covers indoor smoking, including bars, restaurants, and workplaces.
Gallup's 2004 Consumption Habits survey* reveals that the American public is fairly accepting of such bans. A majority of Americans (58%) currently say they favor a ban in their state that would make it illegal to smoke in all workplaces, restaurants, and bars. Four in 10 Americans oppose such a ban.
Smokers and nonsmokers, as one might expect, have very different views on such legislation. Sixty-six percent of smokers oppose a ban on public smoking, while 32% are in favor. Nonsmokers' views are a precise mirror image of smokers -- 66% favor a ban and 32% oppose it.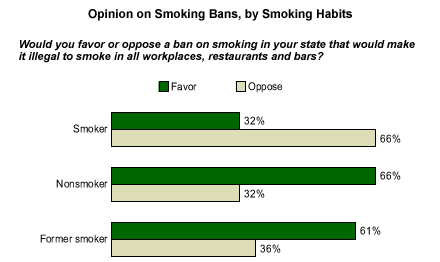 Women are more likely than men to favor a ban, 63% to 52%. This is in spite of the fact that men and women smoke at about equal rates. Opinion also varies somewhat by age: Roughly 6 in 10 Americans aged 30 and older favor smoking bans, while 46% of 18- to 29-year-olds favor them.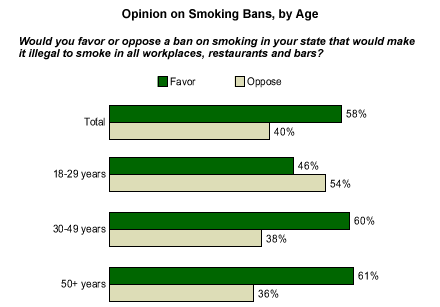 Economic Realities
California's smoke-free workplace law went into effect in workplaces and restaurants in 1996 and bars became smoke-free in 1998. California's journey to becoming a smoke-free state may offer a preview of what is in store for states currently passing smoking bans. The state of California conducted research on the opinions of both smoking and nonsmoking restaurant and bar patrons -- both before and after the ban.
Michael Johnson is a Gallup research scientist and the former chief of evaluation for the Tobacco Control Section of the California Department of Health Services. "When we asked the critical question of whether or not people would be more or less likely to patronize (their favorite bar or restaurant), if there was a ban, a majority said there would be no change or be more likely to go," Johnson says, "and even most smokers said they would not change their patronage."
At the end of 2001, revenues from restaurants and bars in California had grown to $36.8 billion, up from $25.5 billion in 1995, according to a California agency that tracks taxable transactions. "A lot of times, people approach this topic from a health standpoint," says Johnson. "Unfortunately, that often falls on deaf ears. People really respond to economics."
Brian Kitten is co-owner of four sports bars in Lincoln, Neb., where a smoking ban is being debated. He disputes figures like those, saying they are accurate but misleading because they include infrequently smoked-in settings such as cafes and delis, and often make comparisons from 2001, a notoriously bad year for tourism and service industries following the 9/11 attacks. "I've spoken with bar and sports bar owners in cities where a ban is in place, and they all show 20% to 40% decreases in sales following smoking bans. We opened our business under a certain set of ground rules, and now those ground rules are changing."
Kitten's objection raises an important question: Do public smoking bans cause significant outrage among the smoking population? In the recent national poll, more than half of smokers (57%) feel the increased restrictions on smoking in public places are justified, while 39% feel they unjustly discriminate against smokers. These findings are consistent with results for this question over the last decade.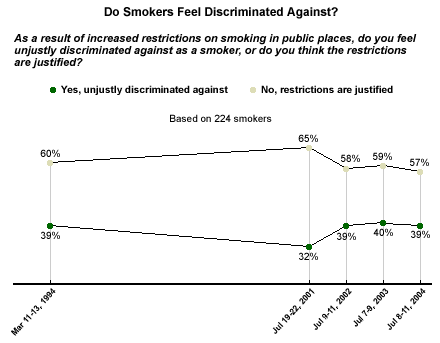 Johnson doesn't believe California's smokers have been alienated by the new law. "I think we've really changed the norms in California. It has made not smoking the norm. Many smokers have reported that it has helped bring them closer to being able to quit, or at least make an attempt."
But Kitten feels such bans really are a question of civil liberties. "They are taking away a person's right to enjoy a perfectly legal product. I'm not going to defend tobacco. But, if the product is so bad, then they should ban the product itself, and not just where you can use it," he says.
*These results are based on telephone interviews with a randomly selected national sample of 1,005 adults, aged 18 and older, conducted July 8-11. For results based on this sample, one can say with 95% confidence that the maximum error attributable to sampling and other random effects is ±3 percentage points. In addition to sampling error, question wording and practical difficulties in conducting surveys can introduce error or bias into the findings of public opinion polls.