What conditions can lead to sustained momentum in Asian countries where growth has a tremendous impact on the health of the global economy? A new Gallup study of employees in Singapore suggests that keeping employees engaged in their jobs may be an important factor.
The September 2004 survey* finds that rising optimism about economic indicators in Singapore has been accompanied by encouraging signs of increased engagement among the country's workers. The proportion of Singaporean employees who are engaged in their jobs increased from 6% to 9% between 2003 and 2004 (see "Booming Singapore Sees Rise in Worker Engagement" in Related Items).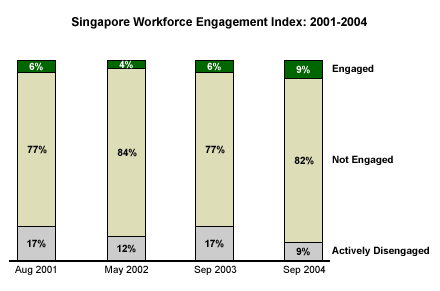 Though it's hard to say whether greater optimism leads to heightened job engagement or vice versa, the two are highly related: Engaged employees (as determined by Gallup's 12-question workplace Engagement Index) tend to be more optimistic than disengaged employees, not only about their jobs but also about other aspects of life -- such as the economy.
The Singapore Economy
The survey shows that overall, Singaporean workers are generally upbeat about economic conditions in their country. Fifty-six percent rate current economic conditions as excellent or good, while 43% feel that the economy is only fair or poor. Ratings of economic conditions in 2004 are the most positive they have been since Gallup began measuring the perceptions of Singaporean workers in 2001.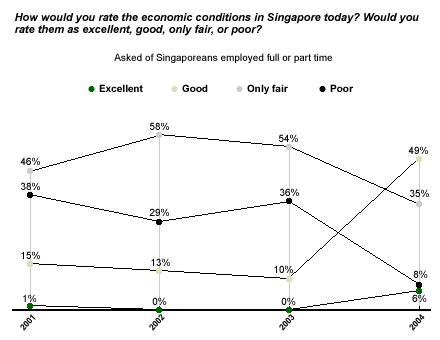 But those Singaporean employees who are more engaged in their jobs are more likely than other employees to evaluate the economy positively. Fully 79% of engaged employees rate economic conditions as excellent or good, compared with 32% of actively disengaged employees.
Overall, 66% of Singaporean workers believe the country's current economic recovery is sustainable. This positive outlook about the economy also extends to optimism about personal economic conditions. Forty-five percent of Singaporeans think their personal economic circumstances will improve over the next year. Only 6% think things might get worse.
Layoffs/Downsizing
But increased optimism among Singapore's employees about general economic conditions has not necessarily made them more sanguine about the prevalence of layoffs and downsizing. Twenty-five percent of respondents say they work for companies that have experienced layoffs or downsizing, a similar proportion to last year (28%). Seventeen percent of workers have observed discussions about layoffs or downsizing -- that's up from 10% in 2003.
Twelve percent of Singaporean employees believe they are likely to lose their jobs in the next year. This percentage is similar to that found last year (13%).
Job satisfaction and the clarity of expectations play important roles in one's sense of job security. Therefore, it is no surprise that employees' engagement levels are related to their opinions about their own safety from downsizing and layoffs. Only 1 in 10 engaged employees think they may lose their jobs within the year, while the corresponding percentage of actively disengaged employees is almost three times higher at 22%.
*This study was conducted as part of a nationwide poll on perceptions about work life in Singapore that was conducted in the first two weeks of September. The study was conducted among 1,010 Singaporean citizens and permanent residents between the ages of 18 and 54 who are currently employed full or part time, using a random location quota sample. Interviewing was conducted between the period of Sept. 1, 2004, and Sept. 16, 2004. For results based on this sample, one can say with 95% confidence that the maximum error attributable to sampling and other random effects is ±3.1 percentage points. In addition to sampling error, question wording and practical difficulties in conducting surveys can introduce error or bias into the findings of public opinion polls.