The European economy has experienced weak economic growth since October 2000. Given this long period of weakness, it is not surprising that EU5 investor optimism has trended downward over the past year and remained extremely low in November. On the other hand, it is encouraging that the Governing Council of the European Central Bank (ECB) cut interest rates 50 basis points last week, noting that the arguments for lower interest rates in Europe have strengthened during recent weeks while inflationary pressures have eased.
Will the rate cut give the European economy the jump-start it needs? Or do European public policy-makers need to do more?
More Factors Than Lower Rates
According to the Index of Investor Optimism -- EU5 -- a joint effort of UBS and The Gallup Organization*, while many European investors (64%) say that high interest rates have hurt economic growth in Europe "a great deal" (18%) or "a moderate amount" (46%), they feel that other factors have had an even greater impact. European investors point to the amount of taxes they pay and the social security contributions they make as being most hurtful to economic growth in Europe -- 76% say these factors hurt "a great deal" (42%) or "a moderate amount" (34%). Large percentages of EU5 investors also point to the condition of the global economy (72%), the way the product and labor markets work (68%), and the fiscal policy required by the Stability & Growth Pact (64%).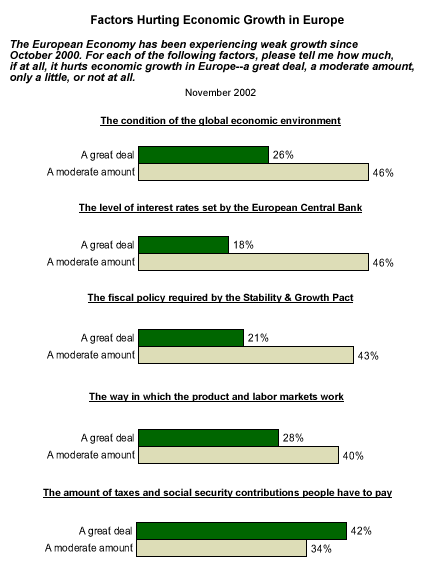 And, More Threats to Europe's Economy
While many European investors believe that public policy issues have hurt Europe's economic growth over the past few years, they are also concerned about the potential impact of war and terrorism on the world economy. About one in three EU5 investors (37%) say they think a possible war with Iraq is the most important threat to the global stock markets over the coming year. Another 27% point to the potential for major terrorist attacks. EU5 investors also see a prolonged economic downturn (20%), and further business accounting scandals (12%) as potential threats to the world economy.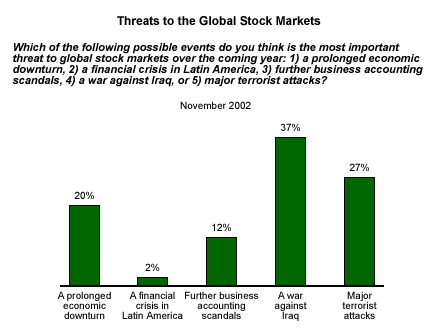 Key Points
Like U.S. monetary authorities, ECB policy-makers cannot create a recovery alone. And while the combined efforts of the Fed and the ECB are much stronger than those of either entity alone, even combined they are probably not going to be able to do enough to push the global economy into a strong economic recovery.
In this regard, European policy-markers may want to pay special attention to the shakeup of the Bush administration's economic team. The United States is not the only nation that needs economic policy leaders who see a strong world economy as an essential element in the fight against those who threaten world peace.
*Results for the Index of Investor Optimism -- EU5 are based on interviews with approximately 200 investors each in France, Germany, Great Britain, Italy, and Spain conducted November 1 to 17, 2002. For results based on a total sample of approximately 1,000 investors, one can say with 95% confidence that the margin of sampling error is ±3%. In addition to sampling error, question wording and practical difficulties in conducting surveys can introduce error or bias into the findings of public opinion polls.