Looking at their portfolios in 2002, more than half of all EU5 investors (56%) say that last year was "a bad year" (38%) or "the worst year ever" (18%) for their overall returns, according to the Index of Investor Optimism -- EU5 -- a joint effort of UBS and The Gallup Organization*. Considering this dismal outlook for European investor returns, combined with today's highly volatile geopolitical situation, it is not surprising that Europe's investors are much more pessimistic than they were a year ago.
EU5 Investors Are Pessimistic Overall . . .
In December, investor sentiment took a more pessimistic turn in Europe. The EU5 Index is now at -38, down 10 points from -28 in November. In July and August, the Index was at 2 and –1, respectively, meaning EU5 investor sentiment was essentially neutral at that point in the year. Last January, the EU5 Index was at 40, 78 points higher than its most recent reading. In fact, the December 2002 reading is the EU5 Index's most negative measurement since its baseline was established at 4 in October 2001.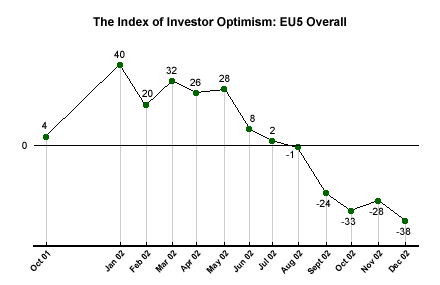 . . . But Optimistic Along the Personal Dimension . . .
While the overall EU5 Index became even more negative (net pessimistic) in December, the Index's Personal Dimension remained unchanged at 11. The Personal Dimension hit its 2002 high in January at 44. By August, it had declined to 18, before falling to 9 in September and 6 in October. In November, the Personal Dimension increased to 11. From an economic outlook perspective, the lack of change on this dimension of the Index remains the most positive aspect of the December survey results. EU5 investor perceptions along the Personal Dimension remain in positive territory and above their October low point.
. . . And Very Pessimistic Along the Economic Dimension
A drop in the Economic Dimension of the EU5 Index is the reason EU5 investor sentiment was net pessimistic for December. After holding steady for two months at -39, the Economic Dimension declined 10 percentage points to -49 in December. The Economic Dimension plunged 14 percentage points in September, going from -19 in August to -33. European investor sentiment toward the economy is now more negative than it has been at any time since the Economic Dimension's baseline was established at -29. EU5 investors continue to be negative about the prospects for the European economy in the months ahead.
Key Points
Perhaps nothing reflects the true depth of the pessimism among Europe's investors than their fears of their economy ending up like Japan's. When asked how likely they think it is that the European economy will enter a prolonged period of economic stagnation similar to Japan's, 45% of EU5 investors currently say it is somewhat likely (37%) or very likely (8%). Forty-four percent say it is somewhat unlikely, while only 5% say it is very unlikely.
Still, while Europe's investors are pessimistic, they tend not to blame the European Central Bank (ECB), which has been conducting monetary policy in the euro zone for nearly three years. Three in four EU5 investors rate the ECB as very successful (4%), somewhat successful (33%), or slightly successful (39%) in ensuring price stability in the euro region. Similarly, three in four EU5 investors also rate the ECB as very successful (2%), somewhat successful (23%), or slightly successful (49%) in encouraging economic growth. These results are fully consistent with the November finding that European investors feel the amount of taxes they pay and the social security contributions they make are most hurtful to economic growth in Europe right now. (See "Will Lower Rates Energize Europe's Economy?"in Related Items.)
*Results for the Index of Investor Optimism -- EU5 are based on interviews with approximately 200 investors each in France, Germany, Great Britain, Italy, and Spain conducted Dec.1 to 15, 2002. For results based on a total sample of approximately 1,000 investors, one can say with 95% confidence that the margin of sampling error is ±3%. In addition to sampling error, question wording and practical difficulties in conducting surveys can introduce error or bias into the findings of public opinion polls.