Summer has officially arrived, and movie fans both young and old are packing theaters to see this year's big-screen blockbusters. Among them is "The Matrix Reloaded," which opened on May 15 and reportedly hauled in more than $134 million in its first four days. There's no question much of that take was shelled out by teen-agers, even though the film is R-rated, meaning viewers under age 17 are supposed to be accompanied by a parent or guardian.
For years, movie studios have been under fire from political and religious leaders who believe that films containing sex and violence are heavily marketed to youth. So just how often do teens go to the movies, and how do teens themselves feel about the amount of sex and violence that appears in their favorite flicks? Data from the most recent Gallup Youth Survey* provide some answers.
Teen Movie-Watching
Gallup asked teens between the ages of 13 and 17 how many movies they have attended (in the theater) in the past 12 months. On average, teens reported seeing about seven movies over the past year, although most teens (60%) reported seeing five or fewer. About one in five (18%) attended more than 10 movies in the last 12 months, but 1 in 10 teens said they did not see a single movie in the theater.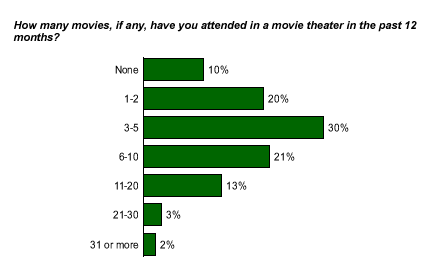 Too Much Sex and Violence?
Democratic Sen. Joseph Lieberman of Connecticut and Republican Sen. John McCain of Arizona have been outspoken critics of the movie, music, and computer game industries for targeting teens in their advertising of products containing violent and sexual content. But as a group, teens seem to be relatively unconcerned about this issue. When asked whether there is "too much violence in the movies," just 27% of teens said yes, while 73% said no. They are more divided on the subject of sex in the movies. Forty percent of teens believe there is too much sex in the movies, but 59% disagree.
Teen girls tend to have more conservative views on this issue than teen boys do. Thirty-four percent of girls think there is too much violence in movies, as do just 20% of boys. When it comes to sex, girls and boys are even more divergent in their opinions -- nearly half of girls (48%) think there is too much sex in the movies, compared to 31% of boys.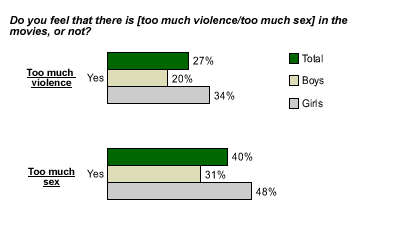 Bottom Line
"The Matrix Reloaded" had the biggest opening in history for an R-rated movie, and according to Warner Brothers, 50% of the movie's audience in the first weekend was under the age of 25. The American public's appetite for movies, especially big-budget action films, which tend to include large amounts of violence and sex, seems to be unquenchable, and Gallup data indicate that this demand will continue. Ninety percent of U.S. teens have gone to see a movie in the past year, and the vast majority of them are undeterred by sex and violence.
*The Gallup Youth Survey is conducted via an Internet methodology provided by Knowledge Networks, using an online research panel that is designed to be representative of the entire U.S. population. The current questionnaire was completed by 1,200 respondents, aged 13 to 17, between Jan. 23-Feb. 10, 2003. For results based on the total sample, one can say with 95% confidence that the maximum margin of sampling error is ±3%. For a complete description of the sampling and weighting procedures used to conduct the survey, click here.