About one in three consumers having an emergency fund say it will last three months or less
GALLUP NEWS SERVICE
PRINCETON, NJ -- Many Americans have the impression that people who can't make their monthly payments simply don't know how to manage their credit. Although this is sometimes the case, unexpected events are often the primary cause of consumer bankruptcies. For example, a family member could get very sick and the costs of medical treatment might leave the family without the ability to make their normal monthly payments. Similarly, the loss of a job, or even a substantial layoff, often has the same effect on a consumer household.
It is the need to make it through such unexpected events that leads many financial advisers to suggest that consumers have an "Emergency Fund" equal to at least six months or more of their income. The June Experian/Gallup Personal Credit Index poll shows that 4 in 10 Americans have little or no emergency funds. As a result, they could encounter severe financial hardship if something unexpected significantly reduces their income or increases their expenses in the months ahead.
Most Americans say They are Saving
Contrary to what many economists might maintain, 7 in 10 consumers say they have saved or invested money in a savings account or in a retirement fund at work, or in some other form of regular savings or investments over the past year. Twenty-eight percent say they have saved or invested more this year than in the previous year while 21% say they have saved or invested less, for a difference of seven percentage points.
When asked what kinds of savings or investments they have, respondents noted the following:
40% say they have an automatic deposit to a savings account.
44% say they have investments in stocks or bonds.
33% say they have CDs or money market accounts.
51% say they have a 401K or other retirement fund that they contribute to each month.
Still, Many do not Have an Emergency Fund
While many consumers say they are saving, 4 in 10 consumers acknowledge they do not have an emergency fund. This makes sense in light of the tax benefits associated with saving money for retirement, which do not exist for creating a "rainy day" fund. Obviously, consumers are highly encouraged to put their first available savings dollars into a 401K or similarly tax-favored account before holding them in some other investment, particularly if their employer matches some portion of that savings.
Not surprisingly, higher income consumers are most likely to have an emergency fund. Seventy-four percent of consumers having $75,000 or more in annual income say they have an emergency fund, compared to 66% of those with incomes of more than $40,000 but less than $75,000 a year. Only 41% of those consumers with annual incomes of less than $40,000 annually say they have an emergency fund.
There is not as much difference by age. Sixty-six percent of those ages 50 to 64 say they have an emergency fund -- the most in any age group. This compares to half of those ages 18 to 29, 56% of those ages 30 to 49, and 59% of those ages 65 or older.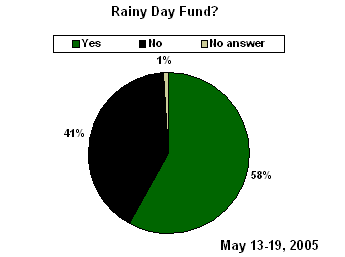 Emergency Fund Size
About one in three consumers having a "rainy day" fund say their emergency funds would only last up to three months or less. Another 23% say their emergency funds would last up to six months, while another 19% say their funds would last up to one year. Twenty-four percent say their emergency funds would last two years or more.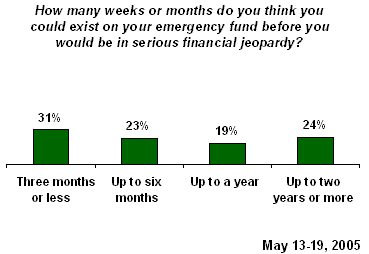 Emergency Fund Composition
Half of those consumers having an emergency fund say they hold it in the form of a savings account, CDs, or money market accounts. This fills these consumers' needs to have their emergency resources in a safe and easily available place. Only 9% say their emergency fund is comprised of stocks or bonds.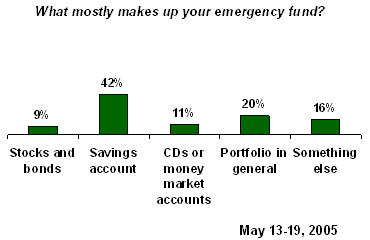 The Personal Credit Index
Consumers' perceptions of their credit situation now and in the future improved according to the June Experian/Gallup Personal Credit Index. The Index increased for the second month in a row and now stands at 94. The Index is up 12 points since April but remains 6 points below its March benchmark of 100.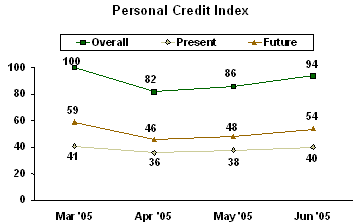 Cautious Good News
The increase in consumers' optimism concerning their present and future credit situations is good news for the nation's retailers and the economy as a whole. The decline in gas prices since mid-April has certainly played a role as it has increased consumer disposable incomes. If gas prices continue to decline in the months ahead, the economy could have a better 4th quarter this year than many expected just weeks ago.
On the other hand, if gas prices don't continue to decline, the outlook for consumer spending is not nearly as good. Forty-six percent of consumers say that current gas and oil prices are causing them very or somewhat serious financial hardship. In addition, 41% of consumers say that higher prices in general are also causing them very or somewhat serious financial hardship. Finally, one-quarter of consumers say that increasing interest rates have affected them negatively.
Given the general expectation that interest rates will continue to increase in the months ahead, many consumers will need some additional relief from declining energy prices if they are going to maintain their purchasing power and their spending. This is particularly the case for the 4 in 10 consumers who have nothing put aside for a "rainy day."
Survey Methods
Results for the Experian/Gallup Personal Credit Index poll are based on telephone interviews with 1,010 adults, aged 18 and older, conducted May 13 - 19, 2005. For results based on the total sample, one can say with 95% confidence that the maximum error attributable to sampling and other random effects is ±3 percentage points.
In addition to sampling error, question wording and practical difficulties in conducting surveys can introduce error or bias into the findings of public opinion polls.