Only 9% prefer to buy apparel online
August marks the start of the fall fashion season, when sweaters and jackets replace tank tops and T-shirts on the sales racks. This rite culminates with the annual rush of back-to-school shopping, which typically makes September the second-biggest month for the retail clothing industry.
In this busy period for apparel sales, why do Americans continue to mob shopping malls when they could be perusing and purchasing from their personal computers? During the last decade, e-commerce has emerged as an alternative to crowded fitting rooms and packed store parking lots. But many people aren't sold on the idea of shopping for clothes online.
A Gallup Poll Panel survey* asked respondents a series of questions about their clothing and apparel purchases, including online shopping behaviors. While 62% of panelists agreed that they usually try on clothes or apparel before buying, that's only one reason why online shopping isn't the preferred method for buying clothes.
Brick-and-Mortar Mavens
Even with the proliferation of Internet use during the past decade, Gallup panelists still like to shop in-person rather than online. When asked about shopping for clothes and apparel, only 9% of panelists agreed with the statement, "I prefer to purchase online rather than in stores," while 77% disagreed.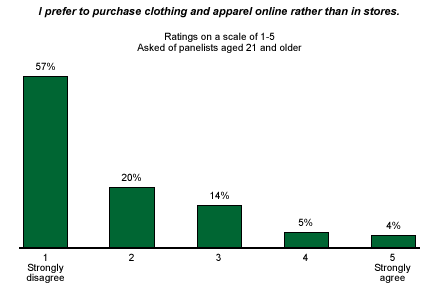 Older respondents express greater reservations about shopping for apparel online. Eighty-one percent of respondents aged 50 and older disagreed with the statement about preferring to shop online for clothing, compared with 73% of those under age 50.
Online Shopping: Fashion Faux Pas?
A slim majority (51%) of panelists agree that "shopping on the Internet does not fit my shopping style," including 37% who strongly agree.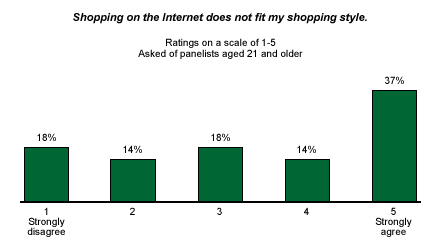 As is the case with shopping preference, older panelists are more likely to agree that e-commerce isn't their style -- 57% of panelists aged 50 and older compared with 43% of panelists aged 21 to 49.
Protecting Against Pocketbook Piracy
The fear of identity theft could be another reason why many hesitate to purchase from the growing number of Internet clothing and apparel retailers. Several big-name retailers, including Polo Ralph Lauren and Designer Shoe Warehouse (DSW), have been in the news recently regarding thefts of their customers' credit card information. And while credit card fraud is not limited to e-commerce purchases, it seems many respondents are aware of the risks of buying online; 44% agree that "shopping on the Internet produces more credit card theft."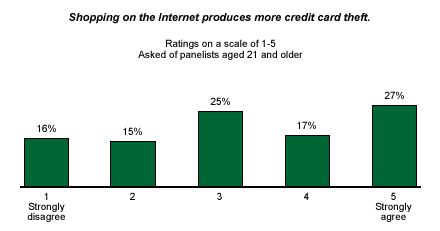 Bottom Line
Gallup retail industry consultant Kurt Deneen points out that e-commerce is still growing quickly, and consumers expect retailers to be prepared for that growth. "It is critical to draw a clear link between the store and Web site experience," he says. "Many consumers use the Internet as a way to shop many different retailers simultaneously from their home, and then they go to the actual store to make their purchases."
But no matter how many retailers open cybershops, Deneen is confident that e-commerce will not supplant in-store clothes shopping in America. "Today's consumer has many channels to make purchases, and online shopping is just one of them," Deneen says. "Shopping online cannot replace the experience of actually touching, trying on, and using the product before purchasing, which allows brick-and-mortar stores to continue to be the true retailing experience."
*These results are based on telephone, Web, and mail interviews with a sample of 7,013 adults in the Gallup Poll Panel survey of households, aged 21 and older, conducted Jan. 4 to Feb. 15, 2005. For results based on this sample, one can say with 95% confidence that the maximum error attributable to sampling and other random effects is ±1.2 percentage points. In addition to sampling error, question wording and practical difficulties in conducting surveys can introduce error or bias into the findings of public opinion polls.