Twenty percent have been victims of theft or vandalization
Muscovites are proud to live in Moscow, but they are unlikely to boast about their city's reigning title as the murder capital of Europe. However, the homicide rate, along with soaring mafia-related crime and persistent corruption, partly explains the concerns many residents have about their personal safety and the effectiveness of law enforcement.
To put Moscow's title in perspective: According to estimates from multiple government and research organizations, the murder rate is about nine times higher than that in London, but the rate in the murder capital of the world, Washington, D.C., is 2½ times higher. This may partly account for why more than 4 in 10 Muscovites (43%) say that they do not feel safe walking alone at night within a mile of their homes, including 30% who say they do not feel safe at all. Twenty-eight percent of Muscovites feel safe, but only 10% feel completely safe, according to a recent Gallup Poll of Moscow residents*.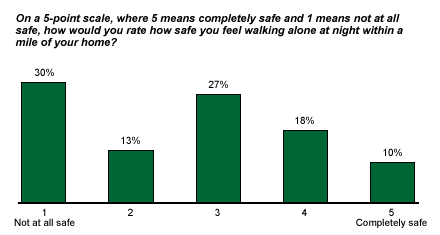 Twenty percent of Muscovites report theft or vandalization of their cars or homes in the last 12 months; this is up significantly from the 8% reported in 2003. Eight percent of Muscovites say they have been assaulted in the last year, compared with 4% who said so in 2003.
Law Enforcement
Muscovites seem to show little faith in the effectiveness of their law enforcement. Thirty-four percent rate law enforcement in Moscow as bad, with 15% rating it as very bad; 22% rate it as good, with only 4% rating it as very good. Forty-three percent are neutral.
Of the 28% of Muscovites who have had dealings with the police in Moscow in the last 12 months, 53% were dissatisfied with how the police handled the incident, with more than a third (37%) very dissatisfied. Less than a third (29%) say they were satisfied.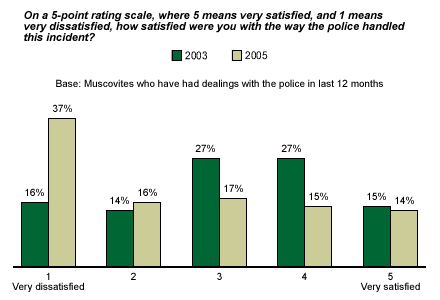 Corruption among the police force in Moscow is well-documented. According to a 2002 study of a group of roughly 2,200 police officers by Russia's Institute for Socioeconomic Problems of Population, more than half of police officers admitted to performing illegal work outside of their official duties -- and on average, this illegal activity took up 34 hours out of their week. To supplement their low incomes, police have been known to take bribes, register stolen cars, deal drugs and weapons, sell fake passports, and even engage in kidnapping.
Over the last several years, President Vladimir Putin has attempted to clean up the police force. In 2001, now former Interior Minister Boris Gryzlov was appointed to do just that. In 2003, Gryzlov reported that 21,000 police officers were found guilty of a variety of violations, and 17,000 were fired from the force. Despite these efforts and Putin's pleas for police to protect the community from crimes rather than engaging in them, those who have had dealings with the police are less satisfied today than they were two years ago. Satisfaction with the way police have handled incidents has decreased from 43% in 2003 to 29% in 2005.
Bottom Line
The root of Moscow's crime problems could be economic in nature: If police made more money, they might devote more time to enforcing the law -- and be more committed to obeying it themselves. However, some experts cite corruption at all levels of the government as the source of the problem, saying corruption is so deeply embedded in the system that it is hard to extract. Just last month, Nikolai Ovchinnikov, head of the interior ministry's department for fighting organized crime and terrorism, reported that police had registered 31,000 cases of Russian officials committing a crime in the first half of the year, which is up 69% from the first six months of 2004.
In any case, unless Putin seeks new methods to combat corruption, feelings of security and satisfaction with the police among Muscovites may deteriorate.
*Results based on interviews with 1,008 Moscow residents, aged 18 and older, conducted in January and February 2005. For results based on this sample, one can say with 95% confidence that the margin of sampling error is ±3 percentage points.