More than a year after the U.S.-led invasion -- and seven months after Gallup reported the results of the first scientific survey of opinion in Baghdad -- much has changed in Iraq.
Gallup, in partnership with CNN and USA Today, conducted 3,444 70-minute, in-home, in-person interviews with a nationally representative sample of Iraqis in 350 separate locations throughout the country in late March and early April 2004. The resulting data offer a wealth of insight on the current climate of opinion among Iraqis nationwide.
While 61% of all Iraqis believe that Saddam Hussein's ouster was "worth" any hardships they have personally suffered since the invasion, opinion is sharply divided on whether the country itself is better off. Forty-two percent believe the country is in a better situation than before the invasion (31% "somewhat better off," 11% "much better off"), but nearly as many (39%) hold a contrary assessment (24% "somewhat worse off," 15% "much worse off"). Similarly, the third of Iraqis (33%) who say the coalition invasion of Iraq has "done more good than harm" are offset by a larger proportion (46%) who say that thus far, the invasion has "done more harm than good."
Furthermore, sentiment often divides sharply along ethnic and sectarian lines. For example, members of Iraq's Kurdish minority are overwhelmingly likely (87%) to view the country as better off now (somewhat: 51%, much: 36%). However, only a third of Iraq's ethnic Arabs (33%) share this positive appraisal (somewhat better off: 27%, much better off: 5%).
Similarly, perspectives and perceptions in overwhelmingly Sunni areas* can differ dramatically from those in strongly Shiite areas**. One particularly stark example is the fact that nearly three-quarters (74%) of those in overwhelmingly Shiite provinces and neighborhoods believe that the ouster of Hussein was "worth" any subsequent hardships, while only about a quarter (28%) of those in heavily Sunni areas share this assessment.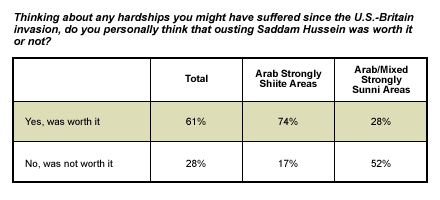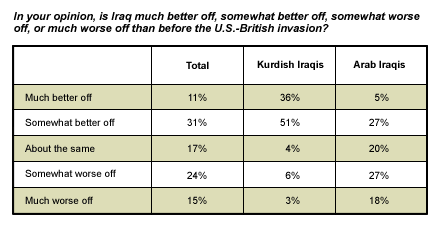 Significant Support Voiced for Attacks on American Troops
While less than a third (29%) of all Iraqis say they feel attacks on U.S. forces are either somewhat (17%) or completely (13%) justifiable from a moral standpoint, an additional one in five Iraqis (22%) feel such attacks are "sometimes justified, sometimes not." Only a quarter of all Iraqis say they view attacks on U.S. forces as "completely" unjustified.
Harsh as they are, the overall numbers obscure important regional variations in sentiment. It is true that, in both the Sunni and Shiite heartlands, roughly one Iraqi in four views such attacks as completely unjustified (Shiite: 25%, Sunni: 24%). But in these same strongly Sunni areas, this proportion is surpassed by the near-third (30%) who say they view such attacks as "completely justified" -- a sentiment expressed by just 8% in strongly Shiite areas. And in the "Sunni triangle" governorates of al Anbar (which includes both Fallujah and Ramadi) and Salah ad Din (which includes Hussein's home town of Tikrit), fully 62% of those interviewed by Gallup say they view attacks on U.S. forces as completely justified.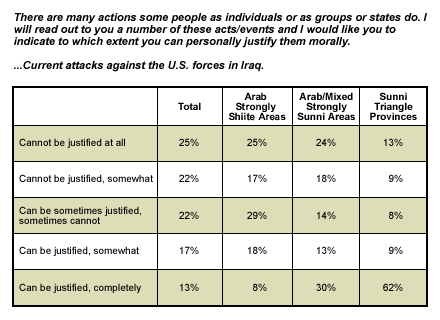 When Gallup polled a representative cross section of Baghdad's residents last summer, nearly two-thirds (64%) of Baghdad's residents told us they thought attacks on U.S. forces were either somewhat (22%) or completely (42%) morally unjustified. Seven months later, the proportion of Baghdadis willing to condemn such attacks has fallen to just half (33%) its previous level (somewhat unjustifiable: 19%, completely unjustifiable: 14%), with the proportion willing to offer a blanket condemnation falling by two-thirds.
Report Card on Coalition Provisional Authority
The overall performance of the Coalition Provisional Authority (CPA) earns a poor appraisal from Iraqis: Just one in four give it either a "4" (20%) or "5" (5%) "very good" rating on a 5-point scale, while 4 in 10 give it either a "2" (21%) or a "1" (21%) "very poor" assessment. There is also evidence of disillusionment -- nearly two-thirds (64%) say the actions taken by the CPA have turned out worse than they expected at the time of the invasion, while just 22% say it has performed better than they initially expected.
Nor is there a perception that the CPA's performance has improved in recent months. Just over a third (37%) say the CPA is performing about as well as it was two months ago, but those who think its performance has improved over this period (23%) are outnumbered by those who think it has deteriorated (35%).
When this same question was asked in Baghdad in late August and early September 2003, half of the capital's residents (50%) saw the CPA as doing a better job than it had been two months previously, while just 14% thought its performance had worsened. The corresponding percentages among Baghdadis seven months later have shifted to just 8% and 52%, respectively.
U.S. Troops -- Liberators, a "Necessary Evil" or Neither?
Iraqis' attitudes toward foreign troops have also hardened considerably. When asked how they now view coalition forces, 71% of all Iraqis choose the description "mostly as occupiers" while 19% say "mostly as liberators"; another 8% volunteer that they view coalition troops as both occupiers and liberators. Within Iraq's 15 non-Kurdish governorates, just 7% say they view coalition forces mostly as liberators, while 81% view them primarily as an occupying force.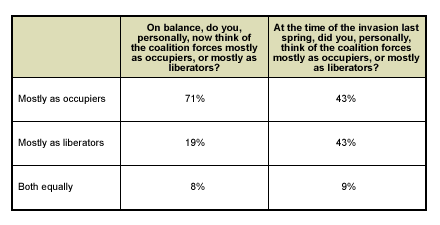 In contrast, when Iraqis are asked how they viewed coalition forces "at the time of the invasion last spring," sentiment is evenly divided. Forty-three percent say they initially viewed coalition forces as liberators, while an identical percentage say they viewed them as occupiers from the outset (9% saw them as playing both roles).
Perceptions of U.S. forces' conduct are negative, and appear to be hardening -- though just 6% of those interviewed say they (or members of their households) have had personal contact with American troops. Only about a third of Iraqis say they think U.S. forces have conducted themselves fairly (24%) or very (10%) well, while nearly 6 in 10 say fairly (29%) or very (29%) badly.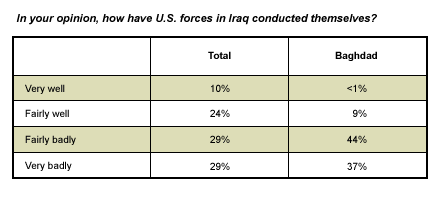 When Gallup asked this same question in Baghdad last year, positive appraisals of the conduct of U.S. forces (48% fairly well, 10% very well) were twice as common as negative ones (20% fairly badly, 9% very badly). Now that situation has been completely reversed: Baghdad's residents are currently eight times as likely to say that U.S. forces have conducted themselves fairly (44%) or very (37%) badly as to say they have acted fairly (9%) or very (less than 1%) well.
One specific Iraqi complaint against U.S. troops is the widespread perception -- whether correct or incorrect -- that they have been indiscriminant in their use of force when civilians are nearby. Nationwide, just 11% say they think U.S. forces are "trying a lot" to keep ordinary Iraqis from being killed or wounded during exchanges of gunfire, 18% say they are "trying only a little," and two-thirds (67%) believe they are "not trying at all." In Baghdad -- an area initially supportive of the conduct of American forces -- 81% choose this final response option.
Nevertheless, ambivalence remains regarding the likely short-term effect of any prompt withdrawal of coalition forces.
While more than half (57%) say they think the U.S. and British forces ought to leave in the next few months, a slim majority (51%) also agree with the notion that recent attacks (against civilians) serve to "emphasize the need for the continued presence of coalition forces in Iraq." And despite their concern for what they regard as excessive civilian casualties during coalition clashes with insurgents, far more Iraqis say that "if the coalition left Iraq today" they would feel less safe (53%), than say they would feel more safe (28%). Not surprisingly in view of the recent spate bombing attacks, Iraqis widely believe the conditions for creating internal peace and stability have worsened (54%) rather than improved (25%) in recent months.
Despite the downbeat nature of many of the poll's findings, there are three hopeful notes in the survey -- and they are important ones. First, Iraqis express strong support for the establishment of a democratic, parliamentary form of government. Second, following the handover of sovereignty on June 30, they back the idea of a temporary caretaker government with limited powers, whose main responsibility would be to organize nationwide elections -- a concept strikingly similar to that just now proposed by U.N. special envoy Lakhdar Brahimi. And finally, they remain strikingly optimistic about their country's long-term future.
Details on these more optimistic findings will be presented tomorrow in another special release on the Gallup Poll of Iraq.
*Defined hereafter as the "Sunni triangle" governorates of al Anbar and Salah ad Din, the north central governorates of Ninawah and Tamin, and the strongly Sunni Baghdad neighborhood of Adhamiyah.
**Defined hereafter as the governorates of Basra, Dhi Qar, Muthanna, Maysan, Karbala, Najaf, Qadasiyah and Wasit, and the strongly Shiite Baghdad neighborhoods of Sadr City and Kazimiya.