Personal Finance
Explore Gallup's research.
The World Bank just released its 2017 Global Findex microdata, allowing users to dig deeper into how the world uses financial services.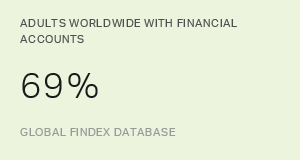 A new World Bank report focuses on the role digital technology plays in personal banking and how it can help close the financial inclusion gap.
Optimism among U.S. investors rose again in the third quarter after plateauing in the second quarter and is now hitting levels not reached since 2000.
U.S. homeownership rates are down eight percentage points since 2009, with declines evident among most major demographic groups except older Americans.