Retirement
Explore Gallup's research.
Optimism among U.S. investors rose again in the third quarter after plateauing in the second quarter and is now hitting levels not reached since 2000.
Hourly workers are less satisfied than salaried workers with most tangible aspects of their jobs, including vacation time, retirement plans and pay.
U.S. investors are gaining confidence that they will be able to maintain the lifestyle they want throughout their retirement.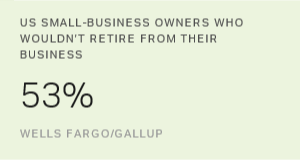 Three-quarters of U.S. small-business owners believe they will have enough money to live comfortably if they retire, although half would continue working even if money were no object.