Politics
Explore Gallup's research.
President Donald Trump's May 1-12 job approval rating stands at 42%, slightly below the 46% high reached in the second half of April.
By failing to include an exception for cases of rape or incest, the Alabama anti-abortion bill is out of step with the views of most Americans.
Joe Biden has an extraordinary 44 years of service as an elected federal official; how he defines it will help determine his campaign's success.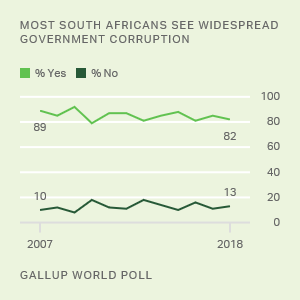 South Africans haven't seen much change on key issues -- such as corruption -- and this will likely be on their minds Wednesday as they vote.
Engaging French workers could help the government pay for the reforms that French citizens are demanding.
Americans wholeheartedly agree with the idea of a massive new government program focused on fixing the nation's infrastructure.