Guns
Explore Gallup's research.
Americans' support for stricter gun laws has risen sharply in the wake of last month's high-profile mass shootings.
Learn more about Americans' recent attitudes about guns in the U.S.
Many more U.S. gun owners say they own a gun for protection against crime than said so in the past. Gun ownership rates remain steady.
Americans' 52% support for stricter gun laws is the lowest since 2014, and the 19% who favor a ban on possession of handguns is the lowest on record.
Americans favor new laws restricting access to guns but recognize that they may not be effective in controlling gun violence.
Nearly six in 10 Americans are dissatisfied with U.S. gun laws, marking the ninth consecutive year of majority-level dissatisfaction.
A majority of Americans favor stricter laws covering the sale of firearms, but today's 57% is down significantly from 64% a year ago.
Healthcare, the economy and immigration are A-list issues in the 2020 election, while other issues are broadly important but not top of mind.
Gallup findings over the past decade reveal that the years from 2010 to 2019 encompassed some revolutionary changes in public opinion.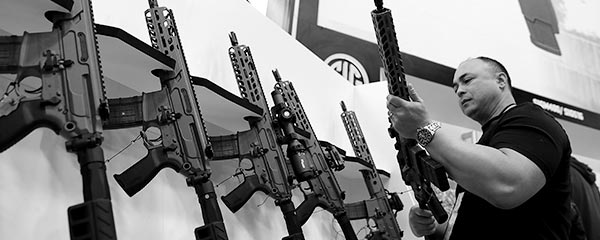 New research on the effects of question wording supports the conclusion that a majority of about six in 10 Americans support an assault weapons ban.
Read Gallup's short answer to this common question about gun ownership, including what percentages of major demographic subgroups own guns.
Learn more about Americans' views on guns with Gallup's trends on 10 key aspects of the issue, with quick links to Gallup data.