Polling Matters
Explore Gallup's research.
Elizabeth Warren's call for a massive increase in government involvement in the U.S. economy faces public opinion challenges.
Pete Buttigieg raised the possibility of a "religious left" in the coming presidential election, but relatively few liberals or Democrats are highly religious.
The failure of elected leaders to meet and discuss infrastructure, a top priority for Americans, exemplifies the public's view that government itself is the nation's top problem.
Americans have mixed views about the healthcare system and clearly have not yet come to a firm collective judgment on suggested healthcare reforms.
Joe Biden has an extraordinary 44 years of service as an elected federal official; how he defines it will help determine his campaign's success.
Americans wholeheartedly agree with the idea of a massive new government program focused on fixing the nation's infrastructure.
Americans remain more negative than positive about the 2017 tax-cut law. Here are five reasons why.
Politicians and political candidates this year will propose different ways to use the government to adjust the incomes of specific segments of Americans.
As President Donald Trump continues to question traditional U.S. foreign policy, public opinion is mixed on how the U.S. should engage with the world.
When Americans' preferences for the U.S. role in world affairs are layered with their views on military spending, five distinct foreign policy types emerge.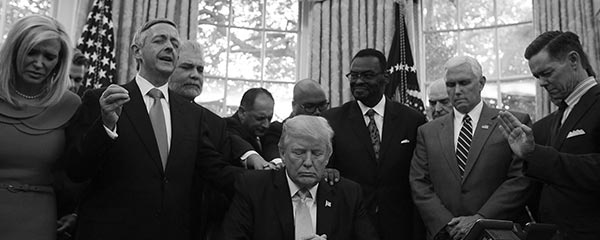 Trump job approval among highly religious, white Protestants is high and has remained stable since he took office.
Americans hold the military in high regard, but with an already-increased defense budget, relatively few say the U.S. spends too little on the military.
Highly religious Americans, Jews and evangelical Protestants remain much more sympathetic to Israel than others in the U.S.
Proposals to enlarge the role of government in the U.S. seemingly conflict with Americans' deep distrust of the way their government operates.
Reparations may become a significant issue in the 2020 presidential campaign, played out in the context of black dissatisfaction with society's treatment.
Candidates' proposals to increase taxes on the wealthy are not new, but do generally resonate with American public opinion.
Decades of intellectual debate about American power sunsetting seems lost on a public that views the matter through a partisan lens.
Gallup reviews how well public opinion fits with the bipartisan committee's recommendations on border security, immigration and spending.
Historically, presidents' approval ratings have not increased after State of the Union addresses, but there have been modest upticks after the past three.
Americans' views on the state of the union are a moving target as the nation waits to see if the government shutdown is permanently resolved.