Small Business
Explore Gallup's research.
Gain the necessary mindset to make enhancements that will transform your organization.
A substantial percentage of small businesses in the U.S. report having no active social media strategy or use of e-commerce for customer interactions.
As U.S. businesses face pressure to grow, Americans persistently report much more confidence in small business than in big business.
Some small businesses see the on-demand trend as a way to help run their enterprises.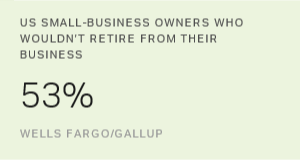 Three-quarters of U.S. small-business owners believe they will have enough money to live comfortably if they retire, although half would continue working even if money were no object.
Twenty-five million U.S. adults are invisible in media coverage of the widely reported 4.9% official unemployment rate.
U.S. small-business owners' optimism about their business situation is mostly unchanged from earlier this year and matches the level of optimism found one year ago.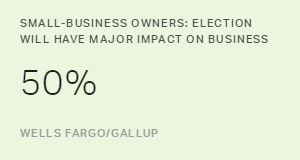 The majority of small-business owners do not feel the presidential candidates are discussing issues of importance to them. Owners are paying close attention to the election, and half feel the outcome of the election will have a major impact on their business.