Story Highlights
Wells Fargo/Gallup Small Business Index is now +132, down from +142
Attracting business, technology woes are top challenges
Marketing, consumer outreach key to business growth
WASHINGTON, D.C. -- Small-business owners' business optimism has softened slightly but continues to be strong. The latest quarterly Wells Fargo/Gallup Small Business Index is +132, down from +142 in Q4, 2019, but similar to the +136 in Q3 and +129 recorded in Q2. The index is a measure of owners' present and future optimism -- both of which saw modest declines in the Jan. 3-10 survey.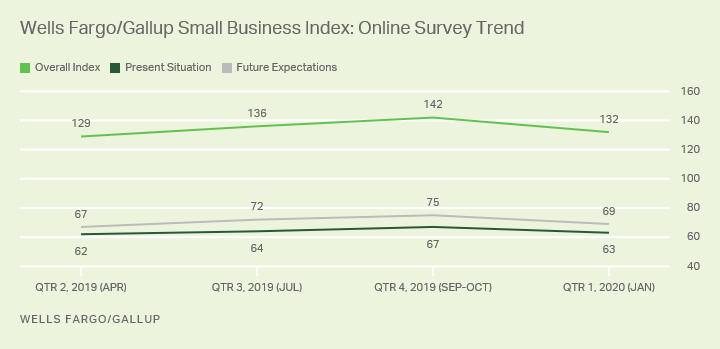 The Small Business Index measures small-business owners' attitudes about a wide variety of factors affecting their businesses. The latest decline is fueled mainly by owners' reports of a lower hiring rate and a decreased anticipation of hiring more employees in 2020. Most other measures of financial health measured by the index remain stable and quite positive.
Challenges Facing Small-Business Owners
Owners continue to be most likely to cite attracting customers and new business as the top challenge facing their businesses, in line with other recent surveys. This quarter, owners have become more likely to mention technology concerns -- including keeping up with technology, computer updates and cybersecurity -- as a major challenge, and technology is now tied with taxes as the second-most-frequently mentioned challenge.
Attracting and Retaining Customers
The Wells Fargo/Gallup survey this quarter focused on what small-business owners can do to attract and retain customers. Asked in an open-ended format to specify what they plan to change or do to attract customers this year, owners were most likely to mention activities involving marketing -- including online and digital advertising, increased social media presence, and building their reputation and name recognition. Owners also cited their plans for customer service and retention, expanding their product and service offerings, and adjusting pricing.
2020 Qtr 1 (Jan)

%

Marketing/Customer Acquisition
36
Increase marketing/Online/Digital advertising/Build reputation/Name recognition
24
Increase your social media presence on sites/Improve/Create website
5
Increase networking opportunities with potential customers/Increase outreach
4
More exhibition presence/Trade shows/Open house
2
Concentrate on acquiring new business/Clients
1
Customer Service/Customer Retention
13
Emphasis on customer service
4
Retain clients/More frequent contact/Loyalty rewards
3
Work harder/Work more/Be proactive/Aggressive/Be better
2
Change location/Hours/Improve facilities
2
Hire more workers/Quality staff/Better training
2
Product Development/Expansion
9
Expand product line/Services/Quality/Inventory availability
5
Emphasis on research/Innovation/Strategies/Focus/Keep current with business environment
3
Concentrate on growth/Expansion
1
Financial Strategies
6
Lower prices/More discounts/Sales
5
Increase revenue/Cash flow/Lower cost/Lower margins
1
Other
4
None/NA/Nothing/Stay the course/No changes planned
26
Don't know
6
Wells Fargo/Gallup
Small-business owners were also read a list of actions they could take in order to attract and retain customers and were asked which, if any, they planned on doing in the next 12 months. Almost two-thirds of owners say they will increase networking with potential customers, putting it at the top of the list of potential actions. About half plan on obtaining customer feedback, increasing their social media presence or updating their website.
Here is a list of possible actions your business could take in order to attract and retain customers. Please indicate if you plan to do any of the following in the next 12 months to attract and retain customers? (Yes)
2020 Qtr 1 (Jan)

% Yes

Increase networking with potential customers
65
Obtaining customer feedback
52
Increase your social media presence on sites such as Facebook, Twitter and Instagram
51
Update your website
49
Increase spending on advertising/marketing using traditional media such as print and broadcast
38
Increase investment in technology or equipment
36
Increase spending on digital/Online advertising and marketing
32
Increasing use of discounts and sales
27
Invest in new product development
27
Increase spending on the physical building/site
17
Update or change your brand, logo
14
Wells Fargo/Gallup
User Reviews
One of the most interesting phenomena in business today is the advent of customer involvement via online customer feedback and reviews.
A little more than half of small-business owners (53%) report that their customers and potential customers have access to online reviews of their business, and over two-thirds of these owners (69%) say such reviews are extremely or very important to their businesses.
As a result of this perceived importance, almost two-thirds of owners (65%) whose customers have access to online reviews say that they (the owners) take active steps to encourage their customers to post positive reviews. About the same percentage of owners say they post online responses to the reviews (66%).
Do the reviews make a difference? More than four in 10 owners whose customers have access to online reviews (43%) say they have taken actions or made changes based on what the reviews say, and most owners say the customer feedback as received through the reviews is at least somewhat fair (83%). Few owners (2%) say that customer feedback as received through the reviews is unfair.
Bottom Line
Small-business owners remain upbeat about their companies' outlook, despite a modest decline in the Wells Fargo/Gallup Index score this quarter. Small-business owners continue to say attracting and retaining customers is the top challenge facing their business.
Owners cite a variety of ways in which they are attempting to meet the challenge of attracting and retaining new customers, but overall, it is clear that owners are embracing the potential of increased use of new technology -- including digital outreach on social media to communicate with and network with customers. Over half of owners say their business receives online customer reviews and comments, and most of these owners say those reviews are important. The majority of these owners report taking active steps to encourage positive online reviews, and a similar proportion say they respond to reviews online. Further, more than four in 10 report that they act on reviews to improve their business in some way, a distinction that could become increasingly important in differentiating successful from unsuccessful businesses.
For more information about Wells Fargo Works for Small Business, visit https://wellsfargoworks.com/.
Learn more about how the Wells Fargo/Gallup Small Business Index works.