Economy
Explore Gallup's research.
Elizabeth Warren's call for a massive increase in government involvement in the U.S. economy faces public opinion challenges.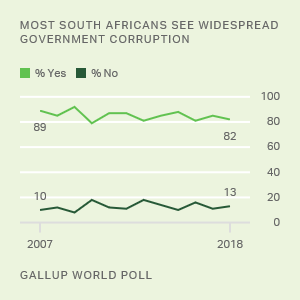 South Africans haven't seen much change on key issues -- such as corruption -- and this will likely be on their minds Wednesday as they vote.
Americans wholeheartedly agree with the idea of a massive new government program focused on fixing the nation's infrastructure.
Americans' confidence in the economy dipped in March and April after surging in February, shortly after the end of the latest government shutdown.
Politicians and political candidates this year will propose different ways to use the government to adjust the incomes of specific segments of Americans.